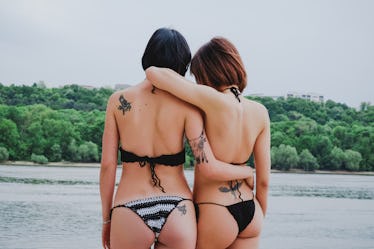 11 Subtle Tattoo Ideas For Spring Break To Seas The Day With Your Girl Crew
If you're in dire need of some time off, you can sigh in relief — because spring break is on its way. The beach is calling you to make some new memories with your girl crew, and dancing the night away is mandatory. It'll definitely be something to remember, and what better way to make those memories last than by getting a symbolic tattoo of your time together? Your whole squad can browse through some subtle tattoo ideas for spring break to solidify your bond for a lifetime.
Whenever you look down at your adorable tat, you'll be flooded with so many memories of the late nights and sunny days spend with your mains. Whether it's your high school crew you're reuniting with, or your best college buds, you're tying yourselves together in a fun, creative way that's exclusive to your squad.
Choose from any of these 11 subtle tattoo ideas that truly embrace all of the good spring break vibes, or maybe they'll inspire you to come up with a design on your own. No matter what you choose for your ink, you and your squad will look super cool — and no one can say you didn't totally seas the day on your spring break.