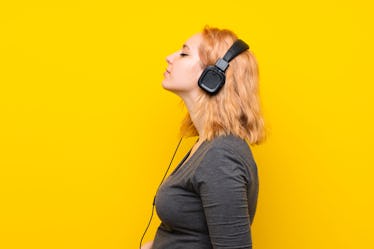 11 Songs To Listen To If You've Been Cheated On & Need Reassurance
Shutterstock
Finding out that your partner has been unfaithful to you can take you on quite the emotional rollercoaster, bringing up anger, sadness, shame, denial, regret, and everything in between. You might even turn to popular music and the Billboard 100 to cope. In fact, the best songs to listen to if you've been cheated on can not only serve you as a reminder that you're not alone in your feelings but also possibly provide you with a new perspective on the experience.
Of course, there is a wide range of songs on the subject of betrayal, which can vary drastically in tone. If you're feeling pissed (and, TBH, a tad petty), you may find inner peace in blasting the classic "Before He Cheats," so you can live vicariously through Carrie Underwood's epic revenge plot. Or, if you're craving a self-empowerment jam, you might want to queue up Kelly Clarkson's "Stronger (What Doesn't Kill You)."
Listening to music may not take away the pain you're feeling, but at the very least, it may provide some much-needed reassurance to get you through the experience. Add these tunes to your playlist, and be sure to belt them out for the ultimate cathartic release.