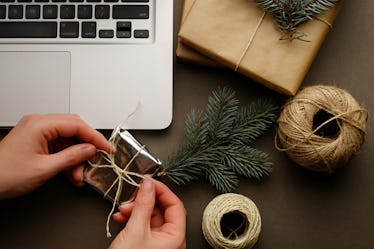 11 Punny Gift Ideas For The Friend Who Needs To Wrap Up The Shtick Already
There are two types of people in this world: those who want to live in a society littered with puns, and those who groan at word play in all its forms. For the pun-lovers in your life, holiday gift-giving actually couldn't be any easier. There are a wealth of punny gift ideas for the friend in your life who can't get enough knee-slappers during the holiday season, or any time of year, for that matter.
The internet provides immeasurable value in matters of academia, technological advancement, and the general spread of useful, interesting facts. But it's also just plain great for word play. There's an endless reservoir of punny gift products and ideas to peruse on the World Wide Web, and almost all of these gifts will ring in pretty cheap.
The challenge is finding puns that haven't already been entirely run into the ground. Finding new forms of word play can be tough, but luckily for us, there are full Etsy stores that seem all but dedicated to the cause of providing new and hysterical forms of word play to satisfy even the pun-savvy friend in your life. From tote bags to baby apparel to silverware, there's a piece of word play for every person in your life. Here are just a few ideas to get you started.