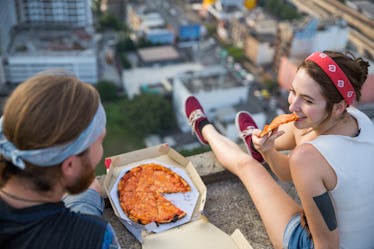 11 Simple, Sweet, Small Things You Can Do To Light Up Your Partner's Day
I spend a lot of time in coffee shops. I'm usually either working on my computer or staging the perfect 'gram but sometimes, I'll just sit and people-watch. That's what I was doing when I witnessed one of the nicest things to do for your boyfriend or girlfriend, like ever.
From my corner table, I glanced up at a guy who was frantically making his way through the glass doors of the coffee shop. He took a minute to catch his breath once he got inside and then proceeded to explain his very urgent problem. You see, his girlfriend was mad at him (I wish he would have divulged why) so he was trying to make things right again. This was her favorite coffee shop and he knew her go-to order, extra pumps of caramel and everything. He also knew that she would be there in exactly eight minutes. I mean, props to this guy for his impeccable attention to detail.
Sweaty Runner Dude put in an order for his girlfriend's favorite drink and an almond croissant, pre-paid for her breakfast, and left an apology note for the barista to slip into her takeout bag. All while I thought, "Wait, is this real life right now?" It was the kind of grand gesture I'd only ever seen in rom-coms, except it wasn't even that grand. The whole thing must have cost him about $12 but I could just tell it meant the world to him.
Sadly, I had a class to get to a few minutes later so I never got to see how this ended for our noble hero. I'm guessing he at least earned himself some brownie (or croissant) points, though.
As cute as this whole ordeal was, you don't have to wait until your partner is mad at you to do something nice for them. In fact, spontaneously doing tiny things to brighten their day will keep them smiling at the thought of you. Here are 11 super adorable things you can try.