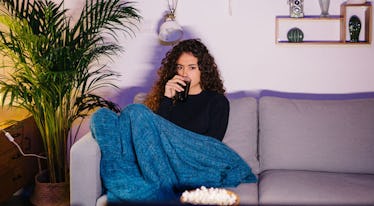 11 Movies To Avoid Watching After A Breakup, So You're Not Constantly Crying
If you've been through a bad breakup, you know that getting over it can be rough. When it's really bad, everyday activities start to seem impossible — like going to work or even brushing your teeth. It's a process, and for the most part, it takes time. However, if you're experiencing a surge in emotions and just want to stop crying for a couple of hours, then it's important to keep in mind the movies to avoid watching after a breakup. Because honestly,The Notebook isn't the happy distraction you need right now. Trust.
Personally speaking, I don't really ever like to watch sappy, romantic movies unless I'm in a sappy, romantic mood. That being said, you might not always know which movies will hit you right in the feels. Especially after a breakup, you'll want more comfort than anything else. So pop that popcorn, grab the ice cream, and open that bottle of wine you've been saving. If you just got dumped (or even if you did the dumping!), you've earned the right to do nothing except eat your heart out, sit in bed and watch movies until you physically can't anymore.
You do you, girlfriend. Couch potato your heart away. But steer clear of the following movies. They won't help you heal. Trust.