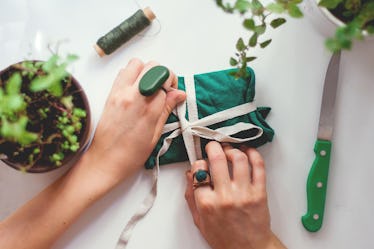 11 Lovely Mother's Day Gifts That Your Partner's Mom Would Really Appreciate
Holidays become doubly exciting — and, truthfully, doubly complicated — any time you're in a relationship. You have to divvy up your time between two households, often kiss the cheeks of a million and one distant relatives you barely know, and, of course, invest in gifts for twice the amount of people. Mother's Day is no exception, which is where this list of Mother's Day gifts for your partner's mom might come in handy.
Gifts for moms can get pretty tricky, especially when they're not for your own flesh and blood. You have to find a present that showcases your thoughtfulness and generosity, but not one that looks like you're secretly trying to buy their approval. And, depending on how well you know your partner's mom, that can be a challenging line to walk.
If you guys are still in the very early days of dating, I'd suggest going the simple route and just picking up a bouquet of flowers (or maybe an orchid? moms love orchids) at your local florist. Or, if you're adventurous in the kitchen, whip up a batch of cookies and call it a day — Mother's Day, that is.
If you feel your relationship with your SO's mom is past the point of bouquets and baked goods, but you're still not totally sure what to get her this year, don't worry, I've got some ideas! Here are 11 gifts that will absolutely show your partner's parents what a keeper you are. Because, well, you really are a keeper.