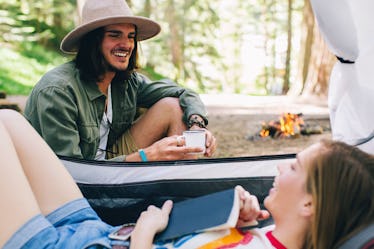 11 Date Ideas For Bookworm Couples That Perfectly Match Your Interests
Dinner-and-a-movie and Netflix-and-chill can be perfectly adequate dates, but if you've spent your whole life captivated by the love stories in novel after novel, those more typical dates may sometimes fall short. As avid readers, you and bae have probably read about countless intricate and out-of-this-world dates that may make you feel like you want a little more oomph from your date nights every once in a while. Which is why these date ideas for bookworm couples are ideal when it comes to planning a date that flawlessly encompasses everything you love about books.
Granted, some of these dates might tailor to different stages of a relationship, like when you're still getting to know each other or further down the line once you've already been together for some time. But regardless, spicing up your date nights by going on dates that are influenced by some of your favorite novels can make for gorgeous memories. Not to mention, bookworm dates often don't need to go through a thorough planning process. They can be spontaneous, which is incredibly novel-esque. So, if you're looking for a unique date for you and your book-lover love without the fuss of planning a date with a lot of moving parts, you may want to consider trying any of these 11 ideas.