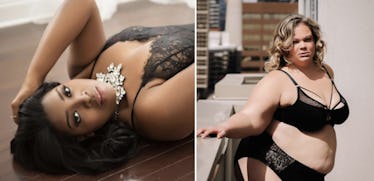 11 Sultry Boudoir Photos You Need To See To Inspire Your Next Sexy Selfie
JENNIFER SMITH/SHANNON SMITH
Does gifting yourself a boudoir photo shoot count as self-care? Because I'd like to advocate that it should. The best boudoir photographers can make you feel like the strongest, most confident woman in the world, which is just one of the many reasons you should book a session ASAP. More than just about posing for a sexy photo in a lace bra, boudoir photography is about emphasizing the parts of yourself you find most beautiful — even those you didn't think were beautiful until now.
A successful boudoir photo shoot is one that leaves you feeling good about yourself, one that encourages you to embrace your favorite features, and, most importantly, one that helps you let loose in an intimate setting. Some women schedule boudoir photo shoots as wedding gifts for their soon-to-be spouses (with or without them present), while others do it purely for themselves.
Rachelle Friedman Chapman, who was paralyzed shortly before her wedding, says she did her boudoir shoot to prove that anyone can be sexy regardless of physical ability, race, gender, or sexual orientation. Photographed with her catheter, Friedman Chapman turned her personal photos into a social media campaign called #WhatMakesMeSexy in July 2015.
She's not alone in her mission to change what it means to be sexy on mainstream channels. Boudoir photographers are aiming to showcase more diversity and inclusivity in their work so that even guys feel comfortable doing their own dudeoir shoots. One day, hopefully, no one will be fired for doing a body-positive, boudoir photo shoot like one Texan woman, Stephanie, was. She claims she lost her job as a direct result of a boudoir photo shoot she did with her fiancé, which quickly went viral. Her former employers allegedly found the beautiful images "inappropriate."
If you need inspiration for your next (or first!) boudoir session, I've rounded up 10 images from four amazing photographers who are here to make you look and feel your best in front of the camera. These women know that the images you see online affect the ways in which you see and judge yourself. Their clients come from all walks of life. Some of them are battling invisible illnesses, while others are advocating for gender equality and LGBTQ+ rights. Although they are different individually, they have one common message: you are beautiful in your own way.