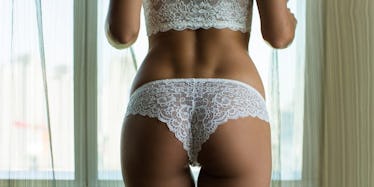 6 Key Things To Know Before Stripping Down For A Bridal Boudoir Photo Shoot
Weddings involve a ton of traditions.
There are those passed down from generations, like jumping the broom or wearing something old, new, borrowed and blue. Then, there are the trend-setting traditions, popping up yearly to give brides yet another thing to cross off their to-do lists.
The latest pre-wedding must-have is a bridal boudoir photo shoot, where women dress up in sexy lingerie and pose as a surprise pre-wedding gift to their fiances. After speaking with bridal boudoir photographer Jenny Taylor, I'm totally on board with the idea.
Think about it: When will you ever feel as radiant, fit and perfectly groomed as you will in the weeks leading up to your wedding? Your nails are perfectly manicured, you've gotten at least one facial and your body has never looked better.
Why not kick off your life as a newlywed with a risque photo shoot to look back on when you two are old and gray?
If you're still on the fence about undressing for your future spouse, Taylor is here to answer all your concerns.
Trust your photographer.
Once you've selected one, though, put your trust in him or her. A good photographer will guide you through the shoot and offer direction for how to pose and feel like the best version of yourself.
"Focus on listening to them, instead of whatever is going on in your head," Taylor explains.
Taylor also says to shop around before settling on a photographer or studio. Read testimonials from other brides and ask to see examples of his or her work.
According to a Weddingbee forum, brides spend an average of $200 for a 2-hour session with multiple costume changes.
No matter what, do not get a spray tan.
You may think it's totally normal to get your spray tan on before a photo shoot, but Taylor says it's a major no-no, as tan skin will counteract the lighting used for boudoir photos and make you look like an orangey mess.
Steer clear of self-tanning products at least five days before the shoot.
You don't have to wear lingerie.
While many of Taylor's clients wear teddies, bras and panties, others opt for more demure looks, like a jersey from their fiance's favorite sports team or a strategically placed silky robe.
"One of the biggest misconceptions about boudoir photography is that wearing super-sexy lingerie is a requirement," Taylor says.
Personally, my boyfriend hates lingerie because it's just an extra layer he needs to worry about taking off. You know what your man likes, tap into that and you'll feel infinitely more confident.
Don't get a bikini wax the day before the shoot.
Immediately following a bikini wax, or even a normal shave, it's natural to develop bumps and redness. To avoid the extra Photoshopping, be sure to visit your waxer 5-7 days before the shoot.
Leave your bridesmaids at home for this pre-wedding event.
When planning a wedding, you'll need your girlfriends' advice on everything, from the flowers to the cocktail hour napkins. When it comes to being sexy for your man, however, you got this.
"Having a friend or family member there will not only distract you, but [also] take away from the experience, which should be all about you," Taylor says.
You heard the lady, this is your time to shine, solo.
Good posture is key to looking like your sexiest self.
If there's one thing Taylor knows, it's how to flatter a woman. She suggests keeping your shoulders back, stomach in and backside out for perfect posture. These moves will flatter your figure, making you appear taller, thinner and more poised. They'll also make you feel more confident and in control.
While it's easy to side eye this bridal trend, Taylor suggests doing your research first before ruling anything out. Who knows, you may love boudoir photography enough to make it an anniversary tradition.