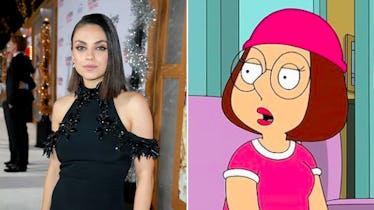 11 Actors You Didn't Realize Voiced Your Favorite Animated Characters
Rich Fury/Getty Images Entertainment/Getty Images /FOX
I can't be the only one who sits down to watch an animated movie or television show and immediately become bugged with trying to figure out where I've heard a certain character's voice before. I end up annoying whoever I'm with by pausing the movie or show and doing a quick internet search to find out who's face is behind the voice. And most times, my instincts are dead-on because there are tons of actors who have voiced animated characters before. Like, A-list, yes-you've-heard-of-them actors and actresses, putting a familiar voice to a character from your favorite animated cartoon. But if these celebs are so famous, then why are they hiding themselves behind an animated character?
It could be for a number of reasons. Maybe it's because playing an animated character is a nice departure from the average film where actors perform on-screen. Maybe the actor or actress connects with the script in a way they can't explain. Or maybe it's just because doing an animated film is fun as hell (honestly, I think this might actually be the correct answer).
So without further adieu, I present to you 11 famous actors and actresses who have probably played one of your favorite animated characters.
1. Mila Kunis as Meg Griffin in Family Guy
Mila Kunis plays the voice of Meg, the family member that's seemingly always the butt of every joke, on Family Guy. But she actually took the role over from Mean Girls star Lacey Chabert, who played Meg initially. Guess Lacey became too busy trying to make "Fetch" happen.
2. Anna Faris as Samantha Sparks in Cloudy with a Chance of Meatballs
Yep, that's Anna's voice your hearing as the weather girl in Cloudy with a Chance of Meatballs. Faris said that growing up, her dream was to become a weather girl in real life, so in some weird way, her childhood dream really did come true.
3. Miley Cyrus as Penny in Bolt
Before Miley Cyrus was cast to voice Penny, Chloë Grace Moretz was the film's first choice. Apparently, Moretz recorded all of the character's lines, which Cyrus then re-recorded when they decided to cast her instead.
4. Vin Diesel as Groot in Guardians of the Galaxy
Look, if you've seen Guardians of the Galaxy, you know that Groot says a collective three words throughout the entirety of the film. ("I am Groot!") But did you know that Vin Diesel also plays BABY Groot? That high-pitched, sweet little voice of Baby Groot in Guardians of the Galaxy: Vol. 2 comes from sexy beefcake Vin Diesel. Who would have thought?
5. Oprah Winfrey as Eudora in The Princess and the Frog
Yep, the talk show queen herself plays the mother of Princess Tiana in The Princess and the Frog — how fitting. And literally not-at-all surprising.
6. Mandy Moore as Rapunzel in Tangled
Come on, you KNEW you recognized that musical voice from somewhere, right? Rapunzel's pipes sound verrryyy similar to Mandy Moore's. (Because that's who it is, duh.)
7. Russell Brand as Dr. Nefario in Despicable Me
Despicable Me's (secretly hilarious) villain was played by Russell Brand, alongside Steve Carell (who played Gru) and Kristen Wiig (who played Miss Hattie) — so yeah, this movie is basically chock-full of A-listers. Surprise!
8. Melissa McCarthy as Amy Hall in Kim Possible
Call her, beep her, if you wanna reach her: Melissa McCarthy voiced the character of the cheerful "villain" biogeneticist Amy Hall— though most fans of though show knew her as DNAmy. Yes, I was a fan. No, you cannot judge.
9. Emma Stone as Eep Crood in The Croods
Even if you didn't recognize Stone's voice as the oldest daughter of the Crood family in this film, you have to admit that her character looks startlingly similar to the real-life actress. Now you know why Eep resembled a Stone-Age version of Emma Stone.
10. Mindy Kaling as Disgust in Inside Out
At a Hollywood press conference, Inside Out creator Pete Docter said that once they decided that the character of Disgust would be disgusted by everything as opposed to being disgusting herself, he immediately thought that Mindy Kaling should play the role. Back-handed compliment, I guess?
11. Busta Rhymes as Reptar in The Rugrats Movie
No, I'm not kidding. Busta Rhymes really played the dinosaur Reptar in an episode of the Rugrats television series, and again in The Rugrats Movie. What a time to be alive.
So, maybe you knew some of the faces behind these animated characters, maybe you didn't. But I think we're all in agreement that portraying a cartoon is pretty cool, and, at the very least, you now know that a world-famous rapper played a green dinosaur in a show about babies.
The end.