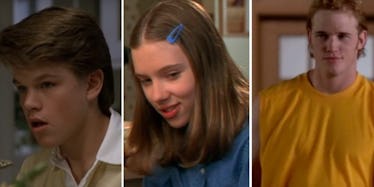 17 Movies You Had No Idea These Celebrities Were In Before They Blew Up
Samuel Goldwyn Films, 20th Century Fox, ThinkFilm
Have you ever sat down to watch an old movie when, all of the sudden, you just have to rush over to IMDb to be sure who you just saw was really who you thought you just saw?
Some of the biggest names in Hollywood actually got their start in some pretty major movies, but obviously you didn't know who they were at the time!
Let's take a look back at some of the beloved movies you never realized were hiding future A-listers in small roles.
Matt Damon in "Mystic Pizza"
Before he was running from the government as Jason Bourne or planting potatoes on Mars in "The Martian," or even before his breakout role in "Good Will Hunting," Matt Damon scored his very first film role as a minor part in the Julia Roberts classic, "Mystic Pizza."
Damon played Steamer, the younger brother of Julia Roberts' love interest in the movie, who only appears in a dinner scene to make some hilarious faces during a family argument.
Scarlett Johansson in "Home Alone 3"
You probably didn't see "Home Alone 3" — I mean, c'mon, they replaced Macaulay Culkin with the kid from "Max Keeble's Big Move" — but one of the few reasons to actually consider giving it a viewing is that it surprisingly co-stars a young Scarlet Johansson!
Yep, though she's mostly known for action flicks and dramas now, one of ScarJo's earliest roles was the older sister in the silly, slapstick "Home Alone" franchise.
Chris Pratt in "Strangers with Candy"
Remember when the big thing everyone on the internet was doing was saying "Chris Pratt got hot!!!" when he lost his "Parks & Recreation" chubbiness and got ripped to star in "Guardians of the Galaxy?" Well, Pratt had actually embraced his studliness long before Marvel expressed an interest in him.
One of his very first movie roles was 2005's "Strangers with Candy," the (sadly not great) movie that came after Amy Sedaris' (very great) TV series of the same name.
Far from the goofy, lovable Andy Dwyer, Pratt played the popular, jerky jock Brason in the high school flick.
Alexis Bledel in "Rushmore"
Alexis Bledel is best known to pretty much every TV lover as the book-loving Rory Gilmore. But despite what many people believe, "Gilmore Girls" wasn't Bledel's first acting gig.
She was an extra playing a nameless student in Wes Anderson's "Rushmore." Blink and you'll miss her!
Ryan Gosling in "Remember the Titans"
I'm sure you've all seen the beloved football flick "Remember the Titans," but did you notice a young Ryan Gosling in the cast!? Yep, Gosling plays linebacker Alan Bosley for the Titans team.
Of course, Gosling already had a pretty impressive background as a child actor before then, appearing on a few Nickelodeon and Disney shows. It was his "Mickey Mouse Club" past that probably helped him land the role on the Disney-produced "Remember the Titans" in the first place.
Miley Cyrus in "Big Fish"
Before she put on that fated blonde wig and rocketed to stardom, Miley Cyrus had her first film role in a Tim Burton movie.
A 9-year-old Miley briefly appears in "Big Fish" as Ruthie, a young girl from Edward's past who investigates the town witch with him.
Alexander Skarsgård in "Zoolander"
We all know that Alexander Skarsgård is really, really, ridiculously good looking, but do you remember when he first proved it in "Zoolander?" Skarsgård had already been acting for a few years in his native Sweden before landing a small part in the 2001 supermodel comedy, which served as his international debut.
He played Meekus, one of the dim-witted, fun-loving male models Derek Zoolander lived with at the beginning of the movie.
Amy Adams in "Drop Dead Gorgeous"
What isn't Amy Adams in these days!? The celebrated actress is known for her scene-stealing performances in critically beloved films nowadays, but she actually got her start in some off-the-walls comedic roles.
Her first role ever was the hyperactive cheerleader and beauty queen hopeful Leslie Miller in the 1999 cult classic mockumentary, "Drop Dead Gorgeous."
Not only is that movie hilarious, but it's also packed with other young superstars, such as Kirsten Dunst, Brittany Murphy and Denise Richards in the role of her lifetime.
Elijah Wood in "Back to the Future Part II"
Before he was taking the One Ring to Mordor, Elijah Wood was a child actor.
His very first role was a bit part in 1989's "Back to the Future Part II" as a boy who tries to teach Marty McFly how to play a shooting video game in the future (the future, by the way, was 2015). Wood was just 8 years old at the time.
Kristen Stewart in "The Thirteenth Year"
Disney Channel Original Movies hold a special place in the hearts of every kid that grew up in the '90s and early '00s, but sadly, they rarely spawned actual A-list movie stars (sorry, Kirsten Storms).
You might be surprised to know there was a future megastar celebrity hidden in a DCOM, and she didn't even have a credited role!
Kristen Stewart's first film role ever was the thankless "Girl in Fountain Line" in a scene of the reverse-"Little Mermaid" movie, "The Thirteenth Year."
Seth Rogen in "Donnie Darko"
Seth Rogen seems to pop up in pretty much every big comedy film these days, but his first movie role was the high school bully in the cult favorite sci-fi drama, "Donnie Darko."
Rogen plays Ricky Danforth, the more dim-witted of the two bullies who instigate a fight with the main characters toward the end of the movie.
"Donnie Darko" is actually packed with some strange little before-they-were-famous cameos from Disney and Nickelodeon stars, including Ashley Tisdale and Jerry Trainor (Spencer from "iCarly") as fellow students. And of course, Jake Gyllenhaal starred as the titular character.
Megan Fox in "Bad Boys II"
Megan Fox is known for her sex appeal nowadays, and that's exactly what one of her first movie roles played on, too. Fox actually had a small, uncredited part in the 2003 "Bad Boys" sequel playing the super descriptive part of "Stars-and-Stripes Bikini Kid Dancing Under Waterfall."
Of course, this was only Fox's second film role. Her first was the much meatier part of resident mean girl Brianna in the Mary-Kate and Ashley Olsen movie "Holiday in the Sun."
Ben Affleck in "Buffy the Vampire Slayer"
No, Ben Affleck wasn't palling around with Sarah Michelle Gellar — he was in the original 1992 "Buffy the Vampire Slayer" movie starring Kristy Swanson. Affleck had a small, uncredited role as a school basketball player in the cult classic.
Fun fact: That wasn't Affleck's only uncredited spot in a beloved film. He also had a brief appearance as a baseball fan in "Field of Dreams."
Emma Stone in "Superbad"
Don't let Emma Stone's Oscar make you forget about her comedy movie beginnings! Before she was a certified awards show darling, Emma fully embraced her goofy side by helming mid-2000s comedies like "The House Bunny" and "Superbad."
Her first major movie role was as Jonah Hill's love interest Jules in "Superbad."
Adam Scott in "Star Trek: First Contact"
Adam Scott got to live out Ben Wyatt's nerdiest dreams before even bringing the "Parks & Recreation" auditor to life when he appeared in the 1996 "Star Trek: First Contact." Scott only briefly appears in the film as a defiant Conn officer.
Jake Gyllenhaal in "City Slickers"
Jake Gyllenhaal got his first role at the young age of 10, starring as Billy Crystal's son in the 1991 comedy, "City Slickers."
Of course, now Gyllenhaal is a heavy-hitter when it comes to big dramatic roles, but he provided some great comedic relief in the beloved Western comedy.
Kevin Bacon in "Animal House"
Kevin Bacon's name has become synonymous with his illustrious and wide-reaching acting career, being famous for working with almost every actor in the business (or at least being within six degrees of working with them).
It's hard to imagine Bacon as a newbie, but leave it to him to land his first-ever role in a beloved classic comedy.
Bacon played Chip Diller, a member of the stuffy rival fraternity to the hard-partying Deltas in "Animal House."