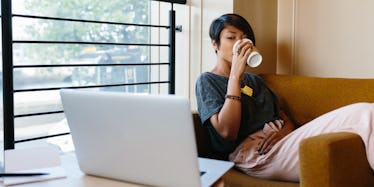 Try These 10 Yoga Poses When You're Watching TV & Can't Remember The Last Time You Got Up
You know those lazy days when it feels like you've been watching Netflix for approximately seven years straight? Same, girl. While there's nothing wrong with being lazy AF once in a while, there have been moments when I'm marathoning my favorite show, and realize that my butt is cramping from how little I've moved in the last... wait, how long has it been since I got up? Yeah, if you find yourself struggling to answer that question yourself, one way to find a little movement in your downtime is by doing some yoga poses while you watch TV. And, look, I'm not just suggesting this because I'm a yoga teacher who thinks everyone could benefit from the practice. I promise, I can be just as lazy as you some days!
Doing some yoga stretches, balances, and strengthening moves while you're vegging out and watching TV is all about feeling casually productive — you know, so you don't feel like a total lump when Netflix asks if you're "still watching." Why yes, Netflix, I am. I, for one, sense a little judgment in that automated message on my laptop screen, and I don't like your tone one bit.
Anyway, what I'm really saying is, if you enjoy the classic, laid-back Friends marathon as much as the next gal, here are 10 yoga poses you can do while you're watching Ross be dorky and Rachel be extra. Getting in a simple stretch in between episodes has never felt so good.