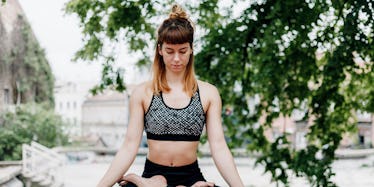 When Your Brain Is Still In Vacay Mode After Traveling, This Yoga Flow Will Help You Focus
Vacation is a wonderfully luxurious break from all things responsibility, stress, and routine — aka total bliss. You're exploring a new place, indulging in incredible food, and relaxing to your heart's content in what is likely a well-deserved break from the often-hectic nature that accompanies your day-to-day life. On the other hand, coming back from your vacay can feel anything but blissful, which is why yoga poses that help you focus can come in handy when it feels like you're suddenly drowning in a sea of emails, real-life responsibilities, and work duties.
Let's be real: When you return from a vacation, it can be a huge adjustment for your body. According to Health, most of us tend to abandon our usual routines when we're traveling, which means you might do things like drink more than you're used to, or sleep a little less than usual. So by the time you re-enter your daily routine, it's really not that shocking that you're experiencing all the "blah" feels and struggling to remember what the word "routine" even means.
Quite frankly, vacation mode can be pretty hard to deactivate, and during busy summers full of travel, road trips, festivals, and the like, getting back into the swing of things at home can seem nearly impossible. So if you find yourself feeling foggy and out of it thanks that post-vacay haze, here's a short yoga flow to help you focus and bounce right back into your normal routine.