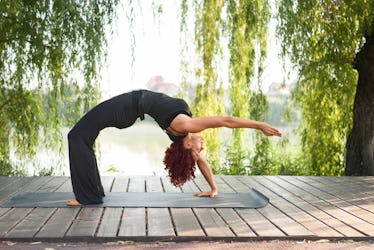 This Yoga Flow Is Exactly What You Need To Help You Focus & Actually Get Sh*t Done
Everyone has those days when it feels virtually impossible to get literally anything done. No matter what you do, staying focused seems like the world's most difficult task, and the mere thought of checking things off your to-do list is low-key comical. In case you didn't know, yoga can help you focus and find the mental stamina to buckle down and get sh*t down when you need that motivation most. And luckily for you, I have the perfect flow in mind for your productivity woes.
While you might think that squeezing in a rejuvenating yoga flow would actually give you less time to accomplish the things you need to get done (because isn't rolling out your mat kind of procrastination in and of itself?), the amount of focus and energy you'll have after you're done with your asana practice will actually provide you with more time to achieve all the tasks you have at hand.
Think about it this way: After a little bit of yoga, you'll feel less tempted to mindlessly scroll through social media, your mental chatter will finally simmer down a bit, and you'll feel totally zen, grounded, and ready to take on anything else your day throws at you, no matter how stressful it may be.
So, the next time you're feeling totally scatter-brained and highly unproductive, try this simple yoga flow to help you reset, zone in, and check all the things off your to-do list.