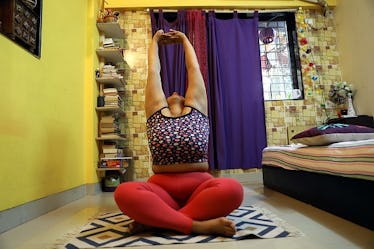 5 Yoga Poses For Energy That'll Wake You Up When The Afternoon Haze Kicks In
Getty Images/Barcroft Media
Even on the most productive of days, that dreaded afternoon slump spares no one. It doesn't care who you are; even if you spent all morning getting sh*t done left and right, by the time 2:30 p.m. rolls around, not even a shot of espresso can save your tired *ss. And even if it can, the inevitable caffeine crash will just drag you right back down. Ditch the caffeine and instead, try flowing through these yoga poses for energy to wake you the f*ck up in the midst of your afternoon haze.
The afternoon slump is one of those things that just about everyone can relate to, regardless of how productive (or not) you actually are when it comes to gettin' sh*t done at work or school. And, according to the National Sleep Foundation, we kind of can't really help but feel it. Sitting still for hours can apparently trick you into feeling like it's bedtime, because your body basically the lack of movement with sleep.
To top it off, your core body temperature naturally drops between 2 p.m. and 4 p.m., which subsequently causes a release of a healthy dose of melatonin (aka your sleep-inducing hormone). This is all totally normal, but nonetheless annoying as all hell.
As tempted as you may be to hit up Starbucks for an afternoon pick-me-up, an energizing yoga flow is a healthier, and definitely more effective alternative for solving your sleepy struggles.
Try any one of these five yoga poses the next time you're in the mood for a midday snooze. Keep in mind, you should definitely flow through these movements in the order they're listed to make sure your spine is totally warmed up and to prevent any unnecessary injuries.