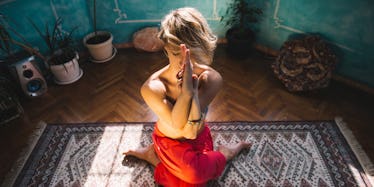 10 Yoga Poses For Morning & Night That'll Help You Set Intentions & Actually Stay True To Them
As a yoga teacher, I almost always ask my students to set an intention at the beginning of their practice: a simple thought or mantra to return to when their thoughts begin to go astray. Ideally, my hope is that they take this intention and mindfully carry it with them throughout their days, using it to work through any difficult or challenging situations that come up. This is often much easier said than done, but by setting aside just a few minutes for yoga poses for morning and night, it can quickly become a fundamental part of your routine to start your day with mindful intentions, and to conclude each day by returning to them once more as you're getting ready to go to sleep.
Now, I'm fully aware that some of you are reading this and saying to yourselves, "Girl, I can barely fit one yoga flow into my busy schedule, now you want me to do two?" And I definitely feel you on that. But worry not, because I'm simply giving you five asanas to begin and end your days on a positive note — no hour-long vinyasa flows included.
These morning and evening flows won't take you any longer than five to 10 minutes each, but I can guarantee they'll still work wonders when it comes to clearing your mind and focusing on positive energy as the sun is rising, and once more as it begins to set.