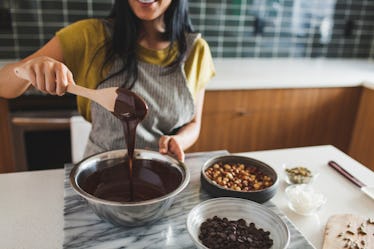 TikTokers Are Using Reese's Peanut Butter Cups To Elevate Breakfast & Dessert
Cavan Images/Cavan/Getty Images
No matter how many Snickers or Twix come your way, your chocolate-loving heart belongs to Reese's — particularly the brand's most popular treat: peanut butter cups. So, these TikTok recipes using Reese's Peanut Butter Cups are basically a dream come true for you.
When you bite into a Reese's Peanut Butter Cup, you're met with the crunch of the chocolatey outer layer quickly followed by the soft and fudgy peanut butter-filled inside. That peanut butter and chocolate combo is your OTP and these TikTok recipes are all about those flavors. They'll take your traditional desserts, like chocolate chip cookies or cake, and bring them to another level.
You can even incorporate some Reese's into your morning for a sweet breakfast. Kick off your day with one TikToker's Reese's Peanut Butter Cup banana bread or another TikToker's Reese's oatmeal. To end your day, try out any of these TikTok dessert recipes like homemade Reese's ice cream or Reese's s'mores.
There's no end to the creative ways you can mix in these chocolate peanut butter cups to your day. Even after you're done trying out these 10 TikTok recipes, there are still more waiting to be discovered using the #reeses hashtag on TikTok.