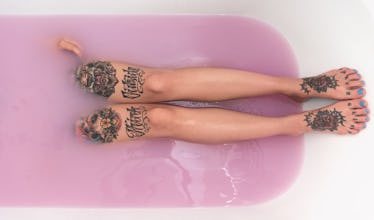 Every Thought You've Had While Shaving Your Legs & I'm Not Even A Mind Reader
Freshly-shaved legs rubbing up against your soft bed sheets or silk robe is instant nirvana. For a time-consuming task when you're trying to scrub-a-dub-dub, the smooth results can be worth the trouble. Ladies, I can tell you the thoughts you've had while shaving your legs, because our techniques may be different, but our minds work the same.
Are you the rusher on the edge of the sink before work, or the relaxed Sunday bath time shaver? Either way, I can guess what you're thinking. You aren't the only one who's praying to the Venus Spa Razor gods that you don't nip yourself. Band-Aids fix the physical wounds, but they don't repair the semi-shame you feel when you have to rock a bandage with that new denim skirt. Your Mickey Mouse Band-Aids will never be a trendsetting accessory.
Shaving your legs — if it's what you do religiously — can give you so much confidence. You're a woman boss when you step out of that bathroom and feel fresh AF. You do it before a big date, even if things aren't getting physical, because a fresh pair of shaved legs honestly makes you feel like a whole new woman. I can't read your mind on the regular, so don't start calling me Professor X because I hit these 10 thoughts right on the nose.