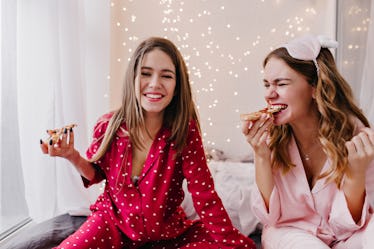 10 Things To Know Before Moving In With Your Bestie That'll Bring You Even Closer
Finding a roommate you really get along with can be a difficult task. You may have heard stories from one of your friends about their passive aggressive roommate who leaves notes all over the place, or a roomie who leaves dirty dishes piled up in the sink on the daily. But you and your best friend know each other like the back of your hands, and you know you'd get along so well as roomies. You basically spend all of your time together anyway, so it seems like you're honestly MFEO. The thought of having your BFF as your roommate sounds so appealing, but there are some things to know before moving in with your best friend, too.
I lived with my bestie when I was in New York, and she was the best roommate I've ever had. I not only got to hang with my favorite person every single day, but we were able to start new friendship traditions that I'll always cherish. As wonderful as it was, there were a few times when we had to have roomie discussions over taking out the garbage or cleaning up the dishes. Of course, that comes with any living situation. You just have to manage your expectations before signing that lease. If you and your best friend have found the perfect apartment, you'll want to think about these 10 things.