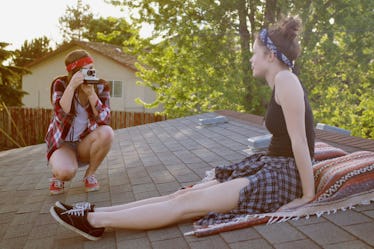 10 Spontaneous Things To Do When You're Bored This Fall That'll Keep You On Your Toes
It's the most wonderful time of the year we've all been anxiously waiting for, folks. It's officially, awesomely, no-doubt-about-it, fall; the time of year when temperatures drop, the air is crisp, our fall wardrobes thrive with cozy sweaters and flannels, and the leaves turn glorious colors as they claim their rightful spotlight. It's the time of year where the possibilities seem to be truly endless, so why is it so hard to keep ourselves from thinking of things to do when bored this autumn?
The thing about fall is that it starts to become way too easy to curl up on the couch and do absolutely nothing. The weather is just chilly enough to want to stay in bed all day, there are great TV shows streaming, and it's usually the time of year when school, work, and family get super busy. It's sometimes easiest to just avoid it all, which can lead, in turn, to some serious boredom.
Instead, let's shake you out of that rut and into something fun to do. Fall boredom's got nothing on you this season, especially with these 10 boredom-proof activities for fall. What are you waiting for? Get out there and get your fall on.