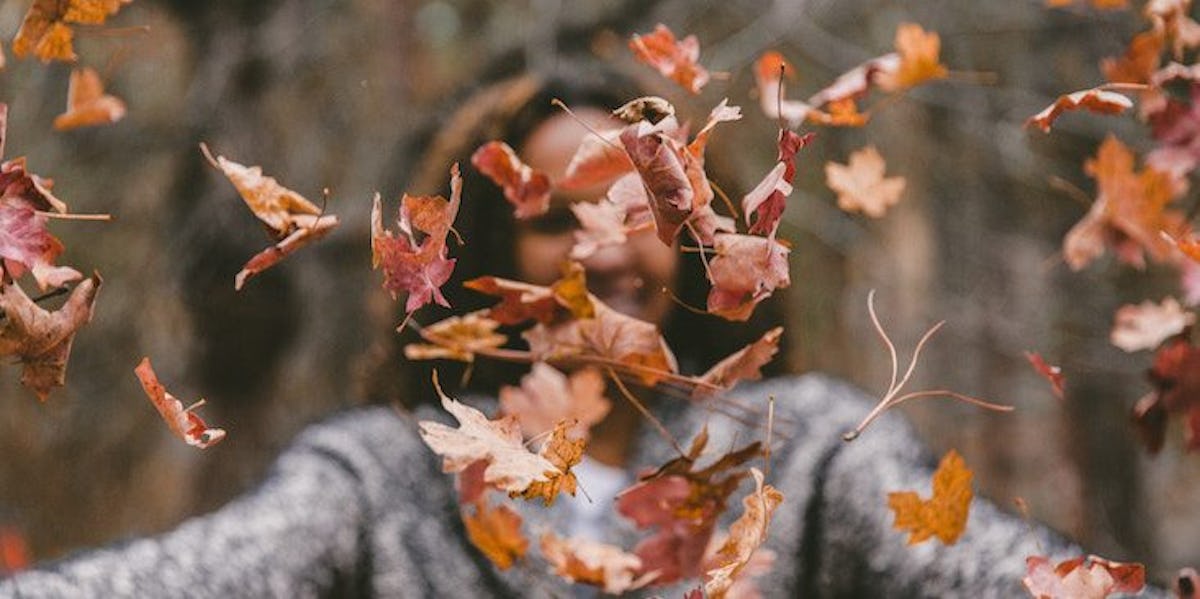 32 Captions For Your "Pumpkin Spice & Everything Nice" First Day Of Fall Pics
Your Friday is about to get a whole lot better, because today, Sept. 22, marks the very first official day of fall. I don't know about you guys, but I already did my happy dance when I got out of bed this morning. Even though September is notoriously sweltering (seriously though, why is it 90 degrees in my college town?!), we can still celebrate this special day by posting quotes for first day of fall, along with our most basic pictures on Instagram.
The first day of fall is something to be remembered. It's the gateway to new beginnings, the promise of cooler, beautiful weather, colorful leaves, and lots of awesome fall activities to cross off the bucket list. It means wearing your favorite sweaters, jeans, and blanket scarves on a daily basis, and it certainly calls for sipping your fall drink of choice on your walk to class or work. Basically, autumn is the boss of all the other seasons, because, in my opinion, it's the only one that actually lives up to all of the expectations we have. So, naturally, the best way to take on the day is by going out, making the most of it, and snapping some pictures along the way. Whether you're stopping into Starbucks for your Pumpkin Spice Latte, heading to a local apple orchard with your friends, painting a pumpkin, or even just showcasing your favorite cozy fall sweater, your Instagram is going to need a little love. As the perfect pairing for your photos, these 32 captions will capture all of your fall feels.
1. "And all at once, summer collapsed into fall." -- Oscar Wilde
2. "Ah, September! You are the doorway to the season that awakens my soul..." -- Peggy Toney Horton
3. "I'm so glad I live in a world where there are Octobers." -- L.M. Montgomery
4. "The trees are about to show us how lovely it is to let the dead things go." -- Unknown
5. "Life starts all over again when it gets crisp in the fall." -- F. Scott Fitzgerald
6. "The only thing getting 'lit' this weekend are my fall scented candles." -- Unknown
7. "Early sunsets, warm tea, messy hair, warm sweaters." -- Unknown
8. "I can smell autumn dancing in the breeze." -- Unknown
9. "I love fall most of all." -- Unknown
10. "Oh fall, it's nice to see you again." -- Unknown 
11. "Autumn leaves and pumpkins, please." -- Unknown
12. "And the sun took a step back, the leaves lulled themselves to sleep, and Autumn was awakened." -- Raquel Franco
13. "Autumn shows us how beautiful it is to let things go." -- Unknown
14. "Autumn killed the summer with the softest kiss." -- Unknown
15. "Fall has always been my favorite season. The time when everything bursts with its last beauty, as if nature had been saving up all year for the grand finale." -- Lauren DeStefano
16. "Autumn... the year's last, loveliest smile." -- John Howard Bryant
17. "It's fall, y'all." -- Unknown
18. "There are two times of the year. Autumn and waiting for Autumn." -- Unknown
19. "There is a harmony in autumn and a luster in its sky..." -- Percy Bysshe Shelley
20. "Autumn paints in colors that summer has never seen." -- Unknown
21. "Fall breeze and autumn leaves." -- Unknown
22. "Delicious Autumn! My very soul is wedded to it, and if I were a bird I would fly about the earth seeking the successive autumns." -- George Eliot
23. "Let there be pumpkin spice." -- Unknown
24. "Light breeze, colorful leaves, bare trees. It must be Autumn." -- Unknown
25. "There is always something to be thankful for." -- Unknown
26. "So long summer, hello fall." -- Unknown
27. "Psithurism: The sound of the leaves rustling as the wind blows through the trees. " -- Unknown
28. "The tints of autumn... a mighty flower garden blossoming under the spell of the enchanter, frost." -- John Greenleaf Whittier
29. "Autumn is a second spring when every leaf is a flower." -- Albert Camus
30. "Every leaf speaks bliss to me, falling from the autumn tree." -- Emily Bronte
31. "Be like a tree, and let the dead leaves drop." -- Rumi
32. "Pumpkin spice and everything nice." -- Unknown