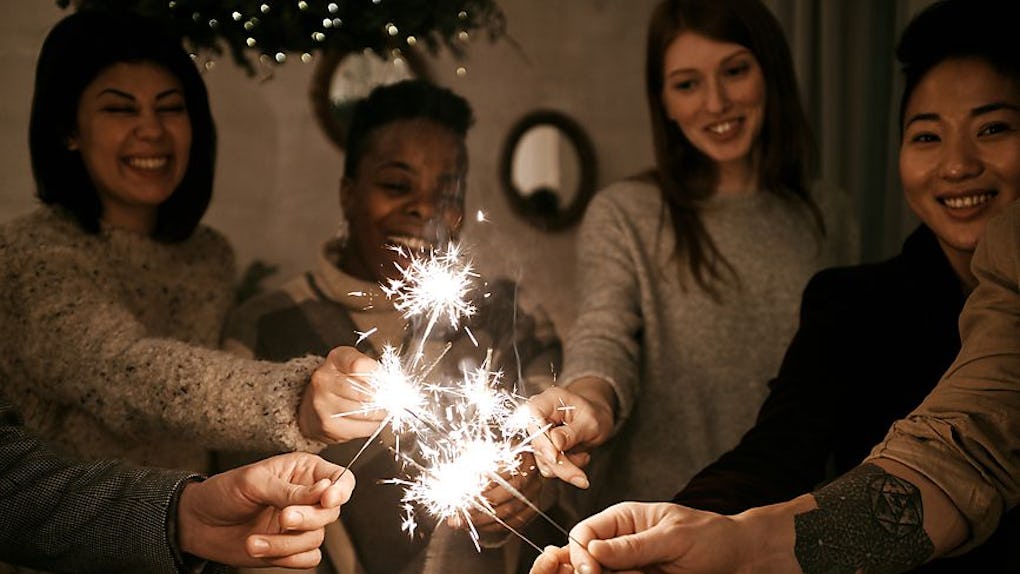 Clique Photo
10 Things To Do On Christmas If You Don't Celebrate, But You're Still Feeling Festive
It's Christmas day, and you're bored to tears, because you don't celebrate the holiday yourself, but it feels like literally everyone else does. Most stores are closed, and the channels are filled with re-runs of Christmas-themed episodes and movies, so what's a non-Christmas-celebrating gal to do? Not to fear — there are plenty of things to do on Christmas if you don't celebrate, regardless of just how festive you want to be.
Christmas is essentially one of the few days when people put down their phones and embrace a social media respite — which is great for them and all, but it can suddenly make your life feel incredibly silent when you're trying to go about (and enjoy) a normal day.
Not actively celebrating Christmas doesn't mean that you have to forgo all festive aspects of the holiday season, though. There are plenty of ways to embrace those blinking lights, that torrent of movies, and the endless hours that unfold one after another, waiting to be filled with things to do. And the best part is that some of them don't even require movement, so there's a full spectrum of activity available for your enjoyment needs.
Here are 10 things to do on Christmas if you don't celebrate, but still want to feel a little festive.
1. Go Ice Skating
You technically need an ice rink for this one, but your city or town most likely has one nearby.
Going ice skating is a quintessential holiday activity regardless of your religious beliefs or holiday participation. Rent some skates, and do a few loops around the rink! The best part about ice skating on Christmas is how quiet that normally crowded rink will be.
2. Volunteer
If you're not spending Christmas opening presents, you might consider passing that experience along to someone who does celebrate the holiday. There are a whole host of ways to volunteer in the weeks leading up to, and even on the actual day of Christmas.
For example, you could collect donations from family and friends of lightly used toys to bring to shelters, or you could decide to actually sponsor a child for Christmas, for the little ones whose parents can't afford to buy them presents. The best way to enjoy Christmas, after all, is by spreading holiday cheer, and holiday cheer knows no religion.
3. Collect Items For A Food Bank Or Shelter
A popular alternative to those lent calendars filled with wine, chocolate, or other goodies is to opt for a giving calendar instead.
For each day of December, drop a canned good or non-perishable item into a bin. On Christmas, you can take your 25 items to a shelter to deliver to people who need them.
4. Eat Chinese Food
It's a popular tradition among those of the Jewish faith in America to go eat Chinese food on Christmas Day. You can partake in this ritual (frankly, I can always go for a little lo mein), or you could create a new ritual of your own.
For example, every Christmas, maybe you'll decide to go to a movie, or perhaps you'll make homemade buffalo chicken wings. Who cares what the tradition is? The sky is the limit.
5. Go Somewhere Cold
For most people, the holidays are synonymous with cold weather. If you're looking for a little of that chilly Christmas cheer sans the Christmas part, consider planning a day or weekend trip to a destination with cold temps. You can soak in that crisp, fresh air, go skiing, or even just light a fire and sit by the flames with a good book.
6. Host A Holiday Dinner With Friends
Just because you're not celebrating Christmas doesn't mean you can't have a party.
Invite all of your fellow non-Christmas friends to your place, and have a potluck dinner, because this is your life, and you make the rules.
7. Host A Movie Marathon
Even if you don't celebrate Christmas, that doesn't mean you're totally immune to the complete and utter magic that is Love Actually.
Christmas day is the ultimate get-out-of-jail-free card for a movie marathon. No one will ask questions, and you basically have 12 hours to do whatever the hell you want. You could even watch Love Actually six times in a row if you feel like it, because it's Christmas, and the societal rules of human interaction do not apply.
8. Read A Classic By The Fire
If you're lucky enough to have a working fireplace, light that baby up and get a fire going with your favorite Dickens novel in hand (and maybe invite me over, because I really like fireplaces).
9. Write "Thankful" Cards
A big part of the Christmas holiday is founded on the idea of being thankful for the people in your life, and recognizing them for what they mean to you. But you don't actually need a full-fledged Christmas celebration to show your family and friends how much you love them.
On Christmas day, consider writing "thankful" cards to all of the people in your life that you're thankful for. The letters don't have to be long, or even that poetic; just keep it short and sweet, and express how you feel.
10. Go Caroling With Friends
There are plenty of Christmas carols that don't focus on religion, and you probably know a lot of them by heart already.
Go caroling with your friends, or even just in your living room. Holiday-themed karaoke sounds like a complete and total win of an idea.