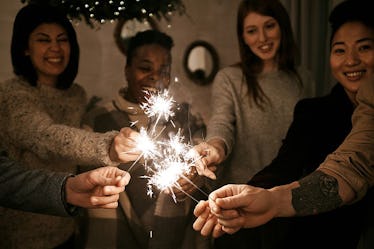 10 Things To Do On Christmas If You Don't Celebrate, But You're Still Feeling Festive
It's Christmas day, and you're bored to tears, because you don't celebrate the holiday yourself, but it feels like literally everyone else does. Most stores are closed, and the channels are filled with re-runs of Christmas-themed episodes and movies, so what's a non-Christmas-celebrating gal to do? Not to fear — there are plenty of things to do on Christmas if you don't celebrate, regardless of just how festive you want to be.
Christmas is essentially one of the few days when people put down their phones and embrace a social media respite — which is great for them and all, but it can suddenly make your life feel incredibly silent when you're trying to go about (and enjoy) a normal day.
Not actively celebrating Christmas doesn't mean that you have to forgo all festive aspects of the holiday season, though. There are plenty of ways to embrace those blinking lights, that torrent of movies, and the endless hours that unfold one after another, waiting to be filled with things to do. And the best part is that some of them don't even require movement, so there's a full spectrum of activity available for your enjoyment needs.
Here are 10 things to do on Christmas if you don't celebrate, but still want to feel a little festive.