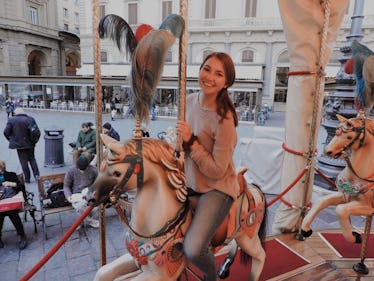 10 Holiday Things You Need To Do In Florence Before The Semester's Over
If you're studying abroad this semester, you've probably already checked a lot off of your bucket list. You may have spent a weekend at a winery with your besties, fell in love with a stunning piece of artwork at a museum, and taken a cooking class with a local chef. Now, it's time to make a separate list of things to do in Florence around Christmas.
'Tis the season when Italian markets with truffles, beautiful ornaments, and handmade sweaters pop up in the squares. When you're walking to class, you might see the luxury shops covering their doors in decor like garland and giant, red bows. The cobblestone streets surrounding your apartment may be lined with twinkly lights too.
To say the very least, it's magical and may make you feel like you're living in a holiday movie where the main characters are living their best lives. It may reaffirm your desire to cancel your plane ticket home, and instead travel from one city to the next, picking up passport stamps and taking part in other countries' Christmas traditions along the way.
For now, though, let it inspire you to make a list of all the things to do in Florence around Christmas. Here are 10 adventures to get you started.