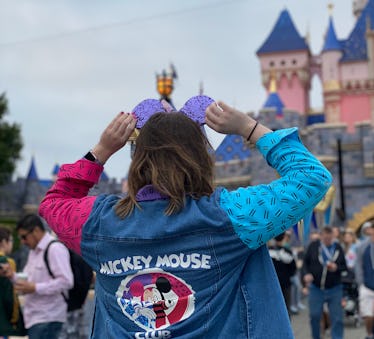 10 Things You Absolutely Need To Do At Disneyland, No Matter Your Age
Disneyland isn't just for kids. If you've learned anything from scrolling through your Instagram feed and seeing people living their best lives on vacation, you know a day at Disneyland is guaranteed fun for all ages. That means you never really have to switch up your to-do list of things to do at Disneyland that you've loved since day one.
Looking back on old vacation photos from when you were little, you tend to get nostalgic. But the traditions you started as a kid can keep going well into adulthood. There's no age limit for snapping a picture with Mickey Mouse or wearing your fave pair of sparkly Minnie ears. The Haunted Mansion will always welcome you with ghoulish delight, and a Mickey-shaped pretzel will forever make your mouth water.
So if you have a day or entire weekend at this magical destination on the books, you already know the 10 activities listed below deserve a spot on the itinerary. These are also the things that will guarantee you have the most magical Disneyland experience possible, so check off one or go for all 10. Whatever you do, have a hakuna matata kind of day, because you've go no worries.