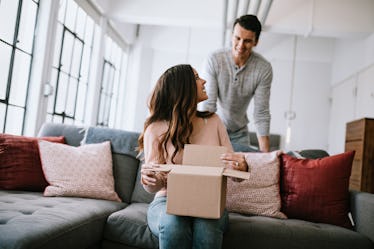 10 Little, Sweet Gestures To Do For Your Bestie On Their Canceled Wedding Date
RyanJLane/E+/Getty Images
Although your best friend may have postponed saying "I do" due to the ongoing coronavirus pandemic, love is, without a doubt, not canceled. The story of your favorite couple is just getting a few unexpected chapters, which means you have the opportunity to shower your BFF with extra gestures that'll make them smile. Of course, you may need help when it comes to appropriately navigating the situation, and finding some ideas for sweet things to do for your friend who postponed their wedding.
Consider this your complete guide to purchasing a thoughtful gift and putting it together in a special, lovey-dovey way. Each idea will come with tips on how to wrap it, notes to tuck into it, or items to include with it so that the gift feels like a total experience. Some ideas will include treats like cake, cookies, and ice cream that your friend can enjoy with their SO, and others may hint at inside jokes or the wedding gifts you got them but are currently safely keeping at home.
Eventually, when it's safe to do so, your best friend and the love of their life will stand in front of their loved ones and say, "I do." For now, though a sweet little something will make them feel special and remind them that love can conquer all.