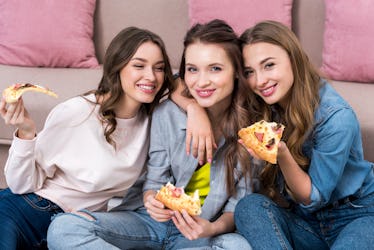 10 Super Bowl Sunday Traditions To Start With Your Favorite Team Of BFFs
With Super Bowl Sunday right around the corner, I have one question: Are you ready for some football? I don't follow the entire NFL season, but I always celebrate the biggest game of the year, no matter what. Even if your team didn't make it to the playoffs this time around, a get-together with wings and pizza to watch the Super Bowl is a tradition you're likely familiar with. Though, there are plenty of additional Super Bowl Sunday traditions to start with your friends this year that will make your party even more fun.
Actually, traditions are so important for any friend group, because you're saying you're in it with your squad for the long haul. It's not just chips and bean dip anymore. Your Super Bowl party together will be an epic, annual event you're counting down to each year — so it's time to do it up.
Along with laughing through the commercials and having many helpings of your bestie's buffalo chicken dip, the most epic of squads needs to add these 10 Super Bowl party ideas to their game day agenda. That way, no matter the outcome of the football game, you'll be having an amazing time with your fave team of BFFs.