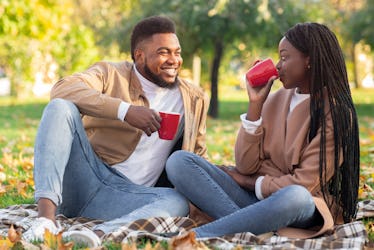 Keep A Lookout For These 10 Signs Your Date Is Nervous Around You
Shutterstock
Some people change their outfit three times. Others down a glass of wine before heading out the door and anxiously text their bestie for a confidence boost on the Uber ride over. No matter how self-assured a person or how well things seem to be going with their current crush, going on a first, second or even third date can be nerve-wracking — and for some, it can be particularly hard to hide those jitters. Luckily, there are certain signs your date is nervous around you that can clue you into their feelings.
There are many reasons why your date may feel nervous around you — it could be that they struggle with social anxiety in general, they haven't gone on any dates in a long time, or they just can't get a read on whether you're into them. Regardless, according to experts, it's not necessarily a negative thing — in fact, it can be a good sign.
"Fearless first dates don't exist," says Fran Greene, LCSWR, dating coach, and author of The Secret Rules of Flirting. "Actually, being a little nervous can work to a person's advantage because it can put their date at ease. It demonstrates that they're not afraid to be vulnerable."
Erika Ettin, dating coach and founder of A Little Nudge, adds that how nervous your date is around you may even correlate to how much they like you. The more invested they are in this connection, the higher the stakes may feel to make a good impression.
With all of that in mind, keep a lookout for these subtle signs that your date is a little on edge around you.