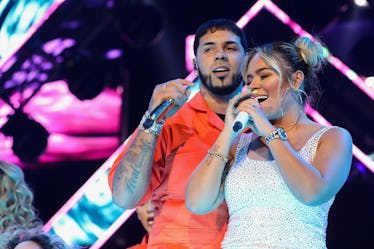 10 Sexy Songs In Spanish That'll Make Your Partner Want To Get Real Close
Victor Chavez/Getty Images Entertainment/Getty Images
It's said that music is a universal language, and with artists like Bad Bunny, J Balvin, Becky G, and Rosalía, there is no shortage of sexy Spanish songs to send your partner. For one, bops about passionate flings, bangin' bodies, and sex on the beach can serve as inspiration for your bedroom activities. But listening to music with your partner — regardless of what the songs are about — can be a major intimacy-building activity.
A 2016 study by music tech company Sonos that surveyed 30,000 people globally found that 18% of folks believe music makes sex better. More importantly, 67% of couples surveyed who listened to music together reported having more sex than the couples who didn't. According to cognitive neuroscientist Dr. Daniel Levitin, who worked with Sonos on this report, your neurons are firing "synchronously" with your partner's neurons when you listen to music together. This process releases oxytocin, aka the love hormone, which makes you want to cuddle up to and be nurtured by your partner.
Imagine the added layer of thoughtfulness and care your partner will feel when you send them a hot song in Spanish, especially if they're Latinx or Hispanic. If you want your partner to feel a soft pang in their chest (and elsewhere), here are 10 sexy songs that'll do the trick.