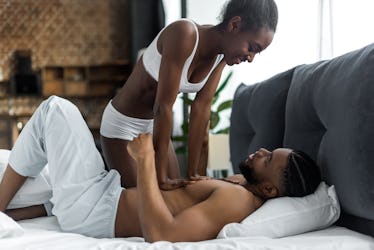 10 Sex Moves To Try Using Pillows That'll Take You To New Heights
Shutterstock
Ah, pillow talk. Who doesn't love the dreamy moments after getting intimate with someone in which you emotionally bare your soul, after physically baring it all? While, as long as everything is consensual, there's no wrong way to get it on, these 10 sex moves using pillows might give a totally new meaning to pillow talk.
No matter how long you've been sleeping with your sweetie, incorporating pillows into your routine can help you and your flame switch it up and hit all sorts of new angles. Maybe you slide a pillow under your back and hips to allow for deeper penetration. Perhaps you lie down over a giant fluffy stack of pillows to give your partner easier access to your rockin' bod. Heck, you could even use a pillow to make spoon sex feel more secure or to play with your vibrator in a new way. Whatever way you choose to do it, inviting pillows to the party can bring extra comfort to the way you do the dirty.
And if you're ready to add some bounce and spring to your sex life, here are 10 moves to try with a pillow that'll take getting frisky to new heights.