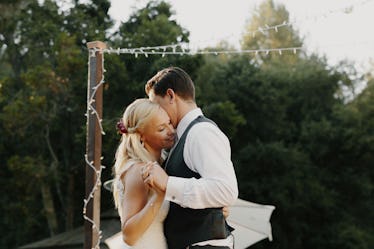 10 R&B Songs That Make Amazing Wedding Songs For You & Bae
It goes without saying that every couple is different, which means every wedding you attend will be as unique as the couple in front of you, vowing to love one another until death do them part. But one thing that most weddings have in common? The first dance. Some couples will turn to R&B songs that make amazing wedding songs, while others will prefer country music, or even indie songs. There's nothing quite like watching two people in newly-wedded bliss hold each other close on the dance floor. But because it's such a special moment, picking just the right song might become a bit of a challenge.
Just remember: The choice is yours. You and your partner should be the ones making the final calls about every part of your special day — from the flowers to the cake to the music, it's all up to you and bae. In the months leading up to your wedding, you may find that deciding every part may feel overwhelming for you and your partner at times because there are just so many options. How can you decide?! Well, don't fret. I've compiled a list of 10 R&B songs, both classic and contemporary, to help you find the perfect song to enter the married world with. One less thing you need to worry about!