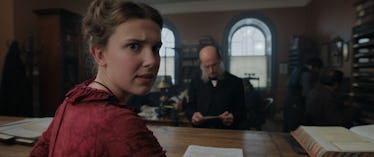 10 Quotes From Netflix's 'Enola Holmes' That Are So Freaking Relevant
Legendary ©2020
When it comes to being a generational icon, Millie Bobby Brown is basically Gen Z's Emma Watson. The Stranger Things star is not only smart and stunning, but as an actor, she's becoming known for selecting projects that highlight strong female leads — and that have A+ dialogue. Her Netflix movie Enola Holmes is perfect proof of this. The film, which dropped on Netflix on Sept. 23, 2020, is a feel-good emblem of female empowerment and humor. These quotes from Netflix's Enola Holmes are not only full of girl power and political insight, but they are also surprisingly relevant in modern times, considering this is a period piece, after all.
In case you somehow missed the hype, Enola Holmes is a Netflix film (and potential movie series) based on the books by Nancy Springer about Sherlock Holmes' little sister, Enola, who turns out to be quite the great detective herself. The film follows The Case of the Missing Marquess, the first of six Enola Holmes Mysteries novels.
In the film, Enola sets out to solve the mystery of her mother's disappearance. She's also attempting to avoid her brothers, Mycroft (Sam Claflin) and Sherlock (Henry Cavill), who want to send her to finishing school. Along the way, she and her fellow characters deliver some truly stellar dialogue — some of which is just as on point in the movie's time period of 1884 as it is in the present day. So, grab a quill and ink, because you'll want to take notes so you can remember these quotes the next time you're in need of an epic statement.
This article was originally published on