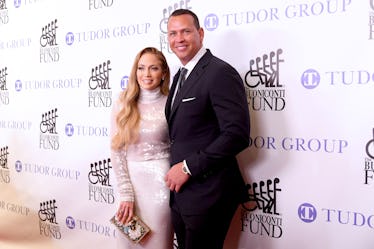 10 Photos Of J.Lo & A-Rod Looking So In Love, In Case You Weren't Already Obsessed
Mike Coppola/Getty Images Entertainment/Getty Images
There are some people on this planet who are really, really ridiculously good-looking, it should be illegal. (And no, I'm not talking about Derek Zoolander.) Jennifer Lopez and Alex Rodriguez are both so attractive and sweet together that it seems like their relationship is too good to be true. But fortunately, they continue to grace us with snapshots of their beautiful love. If you're looking for a couple to make your relationship #goals, these two are it, and these photos of Jennifer Lopez and Alex Rodriguez in love prove it.
Lopez and Rodriguez are more than just a couple of pretty faces, that's for sure. They've been together for less than two years, but it honestly seems like they've been soulmates forever. In fact, Lopez even bragged about their relationship to HOLA! USA back in September 2017, saying, "This is the first relationship I've been where I feel like we really make each other better. We complement each other, and there's really pure, true love. Just wanting to support the other person and make them happy. So there's a different selflessness in the love that's beautiful and different. And healthy!"
Clearly, these two are built to last, and these photos of them being completely adorable show that being photogenic is just one of the things that make them relationship #goals.