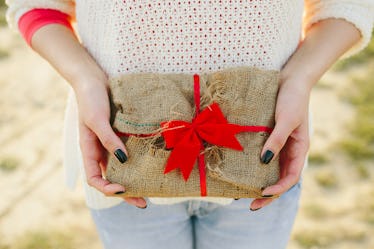 10 Personalized Gifts For Your Partner That'll Show Them How Special They Are
I take holiday shopping very seriously. It's basically my sport, and if they gave out trophies, my house would be packed with them. What I'm saying is, you want to be on my Christmas shopping list. I spend all year compiling lists of gift ideas for all the people I love most in the world, and if I can't buy it, I make it. I love nothing more than a one-of-a-kind gift to show the recipient exactly how special they are, which is why I dig the idea of personalized gifts for your partner so much. They aren't just a gift; they create a memory. They're inherently not disposable because the personalization gives them a deeper meaning. See, I told you I take giving presents seriously.
There is one downside to customized presents, though: They can be corny AF. Seriously, there is some heinous personalized stuff out there, but do a little digging and you can find some amazing things. What's that? You're busy? You have a life and don't have hours to comb through the internet for awesome personalized gifts to give bae? Good news: My gift-giving obsession is going to pay off, because I've done all the work for you. I've found 10 non-cheesy, personalized gifts to give your parter to let them know just how much they mean to you.
1. Personalized Portrait Cookie Cutter
Is your partner cute enough to eat? Well, you can get really literal with that with the personalized cookie cutters from Copy Pastry on Etsy. Just send them a picture of your partner, and they will make it into a cookie cutter. Christmas cookies just got personal.
2. A Custom Sound Wave Necklace
Wish you could tell your partner that you love them all the time? Here's the next best thing: a necklace featuring the sound wave of any special message you would like to send them.
3. A Personalized Whiskey Decanter Set
Is your partner a fancy-pants whiskey drinker? Or have you wanted to set them up with a Mad Men-style bar? This is a great set to get that started and a gift worth toasting to.
4. A Custom Comic Book Superhero Portrait
This portrait is perfect for the comic book fan or the partner you see as a superhero. Come on, that's just sweet. Who wouldn't want one?
5. An Engraved Wooden Watch
This gift puts a modern spin on a classic romantic gift: the personalized watch. Add your special message so that your SO will always know what time it is. Figuratively and literally.
6. A Personalized Solar System Art Print
I love how subtle, but cosmically epic this gift is. Pick a date that is important to the two of you — maybe an anniversary or the day you met — and then, the designers will create a portrait of the solar system on that day.
7. A Coordinate Bracelet
Mark the location of where your relationship began or any significant place with a bracelet stamped with the coordinates of that spot. Who can't appreciate romance with pinpoint precision, am I right?
8. A Pair Of Mushions
Anyone can give their partner a photo of them in a frame, but why not give them some thing a little more… squeezable? Just send in pictures of the two of you, and Firebox will turn them into adorably squishy (and low-key creepy) pillows of your faces.
9. A Handwritten Bracelet
Give your partner a little piece of you that they can take with them: jewelry handwritten by you. It can be a name or a short, personal message — whatever you want them to remember when you're together and apart.
10. A Pair Of Custom Designed Vans
Does your partner love a new pair of kicks? Give them a pair no one else could ever have with ones designed by you. You can create designs using the Vans website, or you can upload your own image.
So, which of these custom gifts are going under the tree for your partner this year? All of them? Nice. Now, that's my kind of Christmas.
Check out the entire Gen Why series and other videos on Facebook and the Bustle app across Apple TV, Roku, and Amazon Fire TV.
Check out the "Best of Elite Daily" stream in the Bustle App for more stories just like this!