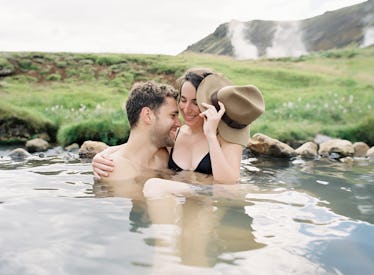 10 Of The Most Romantic Destinations In The World To Celebrate You & Your Boo's Love
One of the very best things in life has got to be going on an adventure with the person you love. Seeing new places and having new experiences together is an incredibly powerful way for the two of you to bond. Besides, who couldn't use a little more adventure in their life, especially when satisfying your wanderlust comes with the added bonus of satisfying your other lusts as well? That's why you should make visiting some of the most romantic destinations in the world one of your top priorities this year. Was traveling one of your New Year's resolutions this year? If not, it's not too late to add it to your list!
What qualifies as a romantic destination is a little different for every couple, but really, anything that encourages you to take in the wonder and beauty that surrounds us and, in turn, makes us appreciate each other more counts — as does a little solitude, should the spirit move you, if you know what I'm saying. While having the right frame of mind can make just about any destination seem romantic, there are just some places in which the feeling is undeniable. The following places are locations that just aren't the same if you were to visit them without someone you care about by your side.
1. Experience The Cherry Blossom Explosion In Kyoto, Japan
Every spring, the already-stunning city of Kyoto bursts alive with cherry blossoms. I can't think of a more romantic experience than walking through this sea of pink flowers with someone you love.
2. Soak In The Natural Beauty Of Kauai, Hawaii
Hawaii's least developed island makes for the most stunning views and adventures you can imagine. Relax, take in the beauty of the island, or take a hike to soak in all its gorgeous scenery.
3. Make Love Under The Northern Lights In Kakslauttanen Arctic Resort in Finland
For an unforgettable and totally unique experience, book one of the glass igloos in this Finnish resort. You can lie under a bed of stars or even take in the Northern Lights. Incredible.
4. Wander The Magical Streets Of Santorini, Greece
If there were ever a city that just oozed romance, it's the sun-swept streets of Santorini, set against the stunning Mediterranean waters.
5. Get Some Alone Time In The Water Gazebos Of Bora Bora
For some quality alone time, rent a luxurious water gazebo in Bora Bora, where you can take in the gorgeous aqua water and snorkel with exotic marine life — just by setting one foot out of your door.
6. Hike Through The Magical Landscape Of The Isle Of Skye In Scotland
Make all of your Outlander fantasies a reality in this scenery that looks like it came out of a historical romance novel. Bonus points if you can get bae into a kilt — and nothing else.
7. Share A Sunset Cocktail On The Beach In Seychelles, Africa
Book a room for two at a beachside resort and share some drinks as the sun goes down.
8. Wander The Canal Streets In Bruges, Belgium, Hand In Hand
When most people think romantic canal streets, they think Venice or Amsterdam, but they are overlooking the most romantic canal city of all: Bruges, Belgium.
9. Take A Sunset Cruise In Tamarindo, Costa Rica
For the perfect tranquillo romance locale, look no further than Tamarindo, Costa Rica. Surf, meet the amazing wildlife, or just relax in a hammock on the beach. Anything you do here is pretty much guaranteed to be romantic.
10. Soak In The Natural Hot Springs Near Reykjavik, Iceland
Just about anywhere you go in this country is absolutely stunning. If your kind of romance leans to the adventurous, go for a hike on a glacier and look for puffins on the beach. But if you just want to snuggle up and relax, head to one of the many natural, geothermal hot springs.
While all these places are magical all on their own, they are an even better way to celebrate your relationship and strengthen your bond. By the way, if you aren't going to use those frequent flyer miles, you can always send them my way!
Check out the entire Gen Why series and other videos on Facebook and the Bustle app across Apple TV, Roku, and Amazon Fire TV.
Check out the "Best of Elite Daily" stream in the Bustle App for more stories just like this!