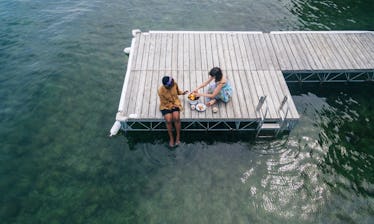 10 Memorial Day Weekend Date Ideas To Start Your Summer Off Right
Everyone loves a long weekend. What could be better than an extra day to sleep in, wear pajamas all day, and slyly look at all the dishes and laundry you told yourself you were going to do on the extra day (that you have no intention on doing.) If you and your boo are looking for some cute and flirty ways to celebrate a long weekend, these Memorial Day Weekend 2019 date ideas may be the perfect way to turn up the fun and the sexy the summer. From camping together to hosting a delicious barbecue full of local fresh produce, Memorial Day weekend can really set the tone for the sunny weeks to come.
Of course, though dates can be super sexy and romantic, they can also be a time to see friends and family and to really bond with everyone you love. From friend dates to mom dates, making some dedicated time for the people who really matter can be the perfect way to spend a long weekend.
Here are 10 Memorial Day weekend date ideas, to be shared with all types of loved ones, to really start off your summer with a bang.