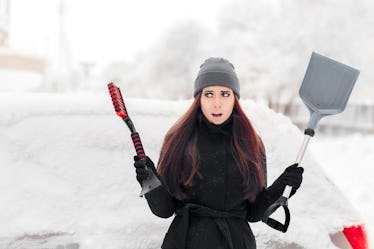 10 Memes About Going To Work On A Snow Day That Every Millennial Can Relate To
Let me set the scene: You wake up, look outside your window, and see that there's snow everywhere. You begin to get that exciting feeling that today will either be a snow day or cozy work from home day. You open up your email to check for a message from your boss telling you to stay home, but instead, you see something that says, "Be safe as you come in today." After bundling up in a thousand layers, wiping the snow off of your car, cranking up the heat, and getting into the office, all you want to do is mope around. Luckily, there are some memes about snow and work that every millennial can relate to. They'll have you laughing through the pain of being in the office.
Snow days make winter so much better. Even with the slightest snowfall on the ground, you're wanting to call in sick and spend the day wrapped up in warm blankets, watching Netflix, and drinking hot cocoa all day long. But, you know that work comes first, so if your boss says to come in, you have to come in. Thankfully, memes exist to make us all feel better. The way they can capture exactly how you're feeling in one dreaded moment can turn that horrible workday into at least something to joke about with your coworkers.
So, if you're sadly in the office while the snow is falling outside, send these 10 memes to your fellow friends working to make everyone's day snow much better.