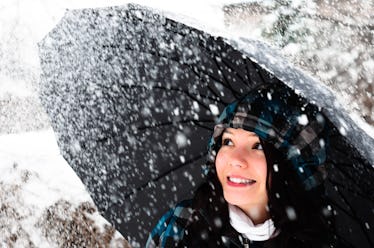 10 Best Snow Blizzard Memes That'll Keep You Warm From Laughing So Hard
Eek, snow! Snow is pretty to look at when you're staring at it from your couch in front of the fireplace. If you have to be out and about in it and it ruins your routine or plans, it's pretty lame. Although I will say, that downtime allows people to create some of the best snow blizzard memes that keep us all warm from laughing uncontrollably.
Seriously, I've almost had hot cocoa come out of my nose just from scrolling through Twitter. I don't know what it is about temporary misery that allows people to come up with clever and funny posts, but it is everything. Yeah, blizzards aren't necessarily new to us, but somehow every time there is one, people continue to get funnier and funnier.
If you happen to be taking shelter in the house, or sadly have to find a way to commute to work (bless your heart), then these memes and posts will surely keep you company. I'm almost certain that social media was basically made for memes, and without them, many crappy predicaments would have no silver lining. So, whether you're living this cold nightmare IRL or laughing from afar in a warm, heaven-sent location, any of these memes are sure to be entertaining AF.