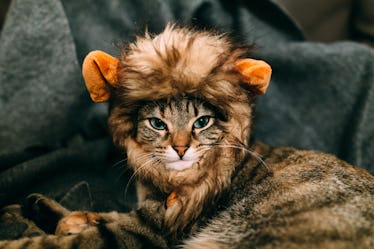 10 Most Adorable Cats In Halloween Costumes That Are Here To Melt Your Heart
There's an extremely special reason why cats rule the internet. They're our fluffy, cuddly companions with so much sass and attitude, that we can't help but instantly fall in love with them. They're already so adorable, but when you add a wig and a costume into the mix for Halloween, these sweet felines get all the more cuter. If you have a cat at home, I'm sure you're constantly struggling to find more storage space on your phone from all of the pictures you take. I hope you find some decent room, because throughout the Halloween season, you'll inevitably be taking an absurd amount of snaps of your furry friend dressing up. In fact, there are some seriously cute Halloween costumes for cats that will have everyone's heart melting.
Who even has time to think about their own costume when you're too busy brainstorming the endless possibilities for your fur baby? Whether it's something spooky, silly, punny, or topical, your cat will absolutely slay the day. Here are 10 cats that are killing us with an insane amount of cuteness in their Halloween garb. Please take all of the pictures you can this year and post them to social media, because this is exactly what the internet needs. Hopefully these felines will give you some inspo for your cat's Halloween costume this year.