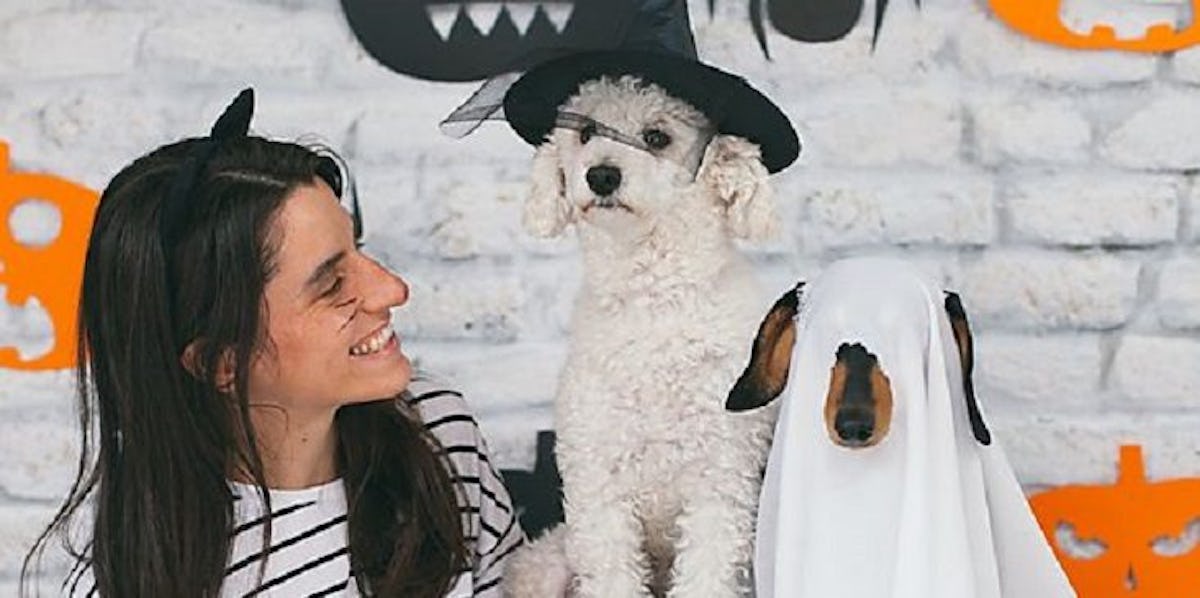 10 Pets Who Slayed Halloween Better Than You, And We're Here For The Cuteness
Marija Mandic/Stocksy
Let's face it, it's not very difficult for our pets to upstage us; everything they do is cute beyond compare. When our friends come over, they're automatically drawn to our pets, but we're totally not jealous of the endless amount of attention they get. Actually, we're so proud of our fur babies for being as lovable as they are. That's why we're OK with our pets upstaging us, even for Halloween. Most of us proud pet parents probably search the internet to find the cutest pet Halloween costumes for our babies to wear, before we even consider looking for our own.
Yes, some of us are way more excited about finding the right costume for our pet rather than think about what we're going to wear. I personally look for inspiration for my cat's costume months in advance. When you're looking for an outfit for your pet, you want to find something that's too adorable for words, and completely on brand. You also want something they'll be comfortable in while slaying it all night long. Halloween is for everyone in the family... whether you have a cat, a dog, a bunny, or a horse. If you need some inspiration this year, here are 10 pets who totally crushed it on Halloween, and we're here for the cuteness.
1. The Cutest, Fluffiest Harry Potter We Ever Did See
I mean, come on! Just look at that sweet little face. This dog looks magical in his Harry Potter costume, complete with a Gryffindor scarf and glasses. The pipe cleaner lighting bolt scar on the glasses really sells the overall ensemble.
2. This TY Beanie Baby Definitely Gives The Best Cuddles
If your pet isn't into the whole costume idea, you can do something simple like this TY Beanie Baby costume. All you need to do is attach the TY heart tag to their collar, and there you go. It's quick, easy, and oh-so-adorable.
3. This Hot Dog's Toppings Game Is So Strong
Your dog will be one hot dog in this hot dog costume, complete will all of the best toppings. Every time I see a dog dressed as a hot dog on Halloween, I'm still overwhelmed by cuteness. I literally cannot, because this dog is killing the game.
4. This Cat Pulls Off The Octopus Look Like A Champ
It's always a fun option having your pet dress up as an entirely different animal. For a cat who likes seafood, I'm sure they never expected to be seafood for Halloween, amiright? This cat dressed up like an octopus is ridiculously funny.
5. Props To This Pet Who's Totally About That #TacoTuesday Life
This cat dressed up like a taco is literally our new BFF. To be honest, any pet who supports tacos gets a gold star in our book. It's a costume that will shut it down at any Halloween party, that's for sure.
6. This Shark Is Looking Fierce
If you're going as Katy Perry for Halloween this year, you have your very own Left Shark. The cat's head sticking out of the shark costume in this picture looks a bit like he's the bait. By the looks of it, this cat knows it, too.
7. This Totoro Pooch Defines Chill AF
I could squeal, because I really cannot handle the fluffiness. This dog dressed as Totoro is just too much. And you know he or she will feel super cozy in this getup, whatever your Halloween plans may be. Do they make one of these for owners as well?
8. We're Here For This Horse's Colorful Parrot Hat
Halloween truly is about being something you've always wanted to be. Doesn't everyone wish they could fly? This horse is the real MVP in this parrot hat.
9. This Bunny Bumblebee Is Buzzing Straight To My Heart
Real talk: This bunny looks great as a bumblebee. I know it doesn't have a real stinger, but my heart hurts from the cuteness overload in this picture. If you have a bunny, this costume is a clear winner.
10. This Pup Is Breaking Hearts And Taking Names
This pooch wins for the best homemade dog Halloween costume, like, ever. You can't go wrong dressing your fur baby up as a PSL. BRB, I'm melting in cuteness.
Check out the entire Gen Why series and other videos on Facebook and the Bustle app across Apple TV, Roku, and Amazon Fire TV.