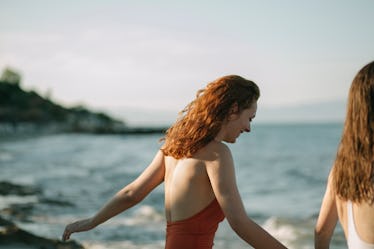 10 Hacks To Keep Your Summer Fling Casual So You Don't Catch Feelings
Summer is here, and that means one thing — corn on the cob. And fling season, of course. The only reason high school movies always feature a spring fling is that there is no school in the summer, so when would they do it? Whether you've met the person you want to spend the summer with, or you're still looking, it can be helpful to plan for the future. You may know that you only want to be with them for the summer, so you'll want to know how to keep your summer fling casual.
I had a summer fling during college when I was studying abroad in Paris. I thought he was perfect because I was living away from home, and he helped me immerse myself in French culture (mostly baguettes, but you get the idea). We had discussed how we were both on the same page about the future, and how we knew it wouldn't last past the summer. Unfortunately, as August began to wane, I found myself catching feelings for him. I knew I should have prepared myself for it (and for my soon-to-be lack of croissants), and, looking back, there were ways to avoid catching feelings. I compiled a list for you to make sure you can work your way out of this sticky situation.
Read on to find 10 tricks to avoid catching feelings for your summer fling!