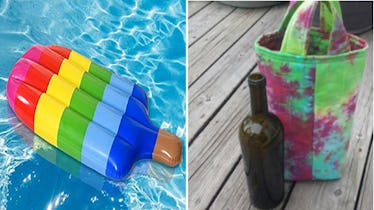 10 Things To Buy For Day Drinking $20 & Under That'll Upgrade Your Game Plan
There's something so carefree about day drinking when you're 21 and up. Regardless of the day — although, Sunday is a fan fave — it complements well with a beach vacation, hanging out with friends, or spending some time solo chilling by the pool. Everyone has their little strategy to a successful day drinking session, but you can't go wrong with a couple of things to buy for day drinking ($20 and under) to really set things off.
Day drinking is so much different than bar hopping at night. The sun is still up, energizing you, and shedding light on the journey still to be had. Whether you're laying out or chilling on your pink convertible pool float, you attain a new level of relaxation when you're day drinking. These products are so handy and dope, you'll wonder how you've been day drinking without them for this long.
You can never have too many accessories to complement a magnificent Mai Tai or a lavishing lemon drop. Just like everyone has their favorite adult beverage, these products would suit every day drinker differently. Besides, you need your own way to be as unforgettable as that sugar around the rim. These super clutch items are about to prove that bottomless mimosas aren't the only things worth chanting, "The more, the merrier."