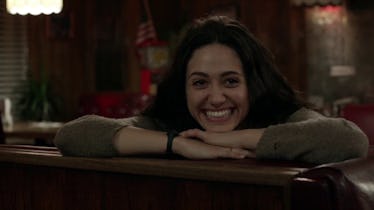 10 Of The Best Fiona Moments On 'Shameless' That'll Make You Miss Her Already
Showtime
Just over a week before Showtime dramedy Shameless returns for its ninth season, leading lady Emmy Rossum shockingly announced that she was leaving the series. Playing the oldest Gallagher sibling and maternal figure Fiona, Rossum praised her experience on the long-running series in a goodbye message, and while she may be seeking a professional change, it's going to take us more than just a season to cope with the exit of one of our favorite actors. Rossum reportedly isn't leaving the series until the Season 9 finale, so before then, we have to talk about these Fiona moments on Shameless that'll make you miss her already.
In the Aug. 30 Facebook post announcing her departure, Rossum said, "The opportunity to play Fiona has been a gift... I know you will continue on without me, for now. There is much more Gallagher story to be told." Thanks to the rest of the Gallagher crew growing up to be full-fledged characters with their own problems and triumphs, Shameless definitely won't suffer from a lack of stories to tell if the show returns for a tenth season. But the show's early years primarily focused on Fiona's struggles to care for her siblings as Frank's alcoholism and drug issues distracted him from providing for the family, and it's hard to imagine the series without her flawed, exhausting attempts to support the other Gallaghers.
Luckily, Shameless creator John Wells has confirmed that Fiona will leave her family behind in the ninth season finale, meaning we have a full season to prepare ourselves for this goodbye. In case you're still in denial about Rossum's news, revisiting some of Fiona's most memorable moments will definitely ease the blow for now.