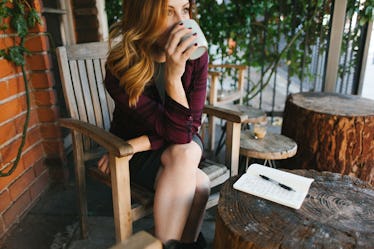 10 Feel-Good Projects To Do In The New Year That'll Have You Living Your Best Life
As 2019 inches closer and closer, not only are you thinking about your overall New Year's resolutions, but you're also looking at ways to be your most productive self in the new year. I'm a firm believer of kicking off each year on a positive note, so it's a great incentive to have some feel-good projects to do in the new year to help get started. Whether you organize your closet or set yourself up with reusable shopping bags, giving yourself some short-term goals at the very beginning of the new year will get you started on the right foot.
Many of us think of New Year's resolutions as overwhelming goals that have to take all 12 months of the year to accomplish. But what's nice about starting a fresh new year with a feel-good project is the instant gratification you'll feel when you complete one of your goals right off the bat. Checking things off your to-do list can work wonders for your sense of achievement and overall productivity. It's positive incentive to do more.
If you're looking for smaller projects that will help you start 2019 with a bang, try one of these.