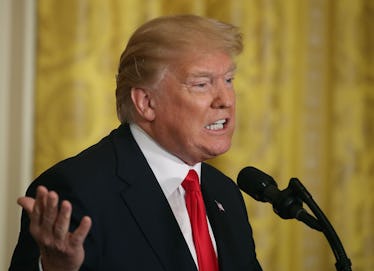 10 "Facts" From Trump That Were Wrong As He Plans To Reassess Libel Laws
Mark Wilson/Getty Images News/Getty Images
On Wednesday, Jan. 10 President Donald Trump called the current U.S. libel laws a "sham and a disgrace" and said that his administration would be taking a "very, very strong look" to reassess fairness and false statements that "represent American values." With the spirit of truth and honesty upon us, I thought it would be an appropriate time to review the 10 most egregious "facts" from Trump that were wrong as he goes about reassessing libel laws.
Before a cabinet meeting on Wednesday, Trump read a prepared statement about libel laws. "We are going to take a strong look at our country's libel laws so that when somebody says something that is false and defamatory about someone, that person will have meaningful recourse in our courts," Trump said. "We want fairness. You can't say things that are false, knowingly false, and be able to smile as money pours into your bank account."
Truer words have never been spoken by the president.
1. One of his more egregious misstatements happened at the very start of his presidency, when Trump exaggerated his inauguration crowd size.
Following the inauguration on Jan. 20, Trump tweeted, "Wow, television ratings just out: 31 million people watched the Inauguration, 11 million more than the very good ratings from 4 years ago!"
Trump's lie was quickly debunked when data was released of the real turnout numbers, as well as photos comparing Trump's inauguration to former President Barack Obama's in 2009 showed quite the opposite. For instance, according to CNN, there were 570,557 D.C. Metro riders for Trump's inauguration date and 782,000 for Obama's 2013 inauguration date.
Shortly after the real numbers came out, former Press Secretary Sean Spicer claimed in a White House press briefing, "This was the largest audience to ever witness an inauguration, period," and that some photos were "intentionally framed" to downplay the crowd.
2. Then there were the birther conspiracy claims about Obama.
As early as 2011, Trump was making public claims about Obama's proof of American citizenship by urging him to show his birth certificate. Trump said on The View in 2011 that there's "something on the birth certificate that he doesn't like." That same year, Obama provided the long-form and short-form of his birth certificate, calling the issue a "sideshow" and "silliness."
In 2016, Trump publicly debunked his own statement about Obama's citizenship, however The New York Times reported in November 2017 that Trump was still discussing the authenticity of the birth certificate behind closed doors.
3. Trump also made headlines for reportedly denying the Access Hollywood tape's veracity.
The Access Hollywood tape with Billy Bush, in which Trump was caught saying the infamous line, "Grab 'em by the p*ssy," was released in November 2016, just before the presidential debate between Trump and Democratic nominee Hillary Clinton. Initially, Trump apologized for the video, dismissing it as "locker room talk" and saying that he was "not proud of it."
However, The New York Times reported that in 2017, Trump wanted to investigate the tape, because he didn't think it was his voice, according to a source close to the president (no named sources confirmed this, however). Access Hollywood host Natalie Morales, among many other reputable sources, have confirmed the tape is real, and those were his words.
4. One of his more trivial exaggerations has been bringing back "Merry Christmas" for the American public.
Trump claimed to be leading "the charge against the assault" on Christmas and took credit for bringing back the holiday phrase this year. On Christmas Eve, the president tweeted, "People are proud to be saying Merry Christmas again. I am proud to have led the charge against the assault of our cherished and beautiful phrase. MERRY CHRISTMAS!!!!"
However, the Obamas have been wishing Americans a "Merry Christmas" for years, and this year was no exception. The family posted a photo on Twitter saying, "On behalf of the Obama family, Merry Christmas! We wish you joy and peace this holiday season." That falsity didn't take much digging to debunk, Trump.
5. Don't forget when Trump claimed Obama wire-tapped Trump Tower. Is there a common thread here?
In March 2017, Trump tweeted, "Terrible! Just found out that Obama had my 'wires tapped' in Trump Tower just before the victory. Nothing found. This is McCarthyism!"
The "news" from which Trump found this out was reportedly a Breitbart News article, which was soundly denied as true. There has been no evidence supporting such claims, and a spokesperson for Obama said the claims were "simply false." Former FBI Director James Comey said in March 2017 that there is no evidence of that having happened.
6. Trump also claimed that Obamacare covers "very few people." (OK, the common thread is undeniable).
Trump has made his opinion on and quest to get rid of Obamacare quite clear, calling it a disaster. During a speech at the annual Conservative Political Action Conference in February 2017, Trump claimed Obamacare covered "very few people."
The facts say otherwise. Roughly 20 million Americans have been insured under Obamacare, with a low of 10.9 percent for the uninsured at the end of 2016, according to Gallup.
7. Then, there are Trump's claims that The New York Times apologized to its subscribers, which it did not.
After the election, the Times released a statement on behalf of the publisher and executive editor that said they "aim to rededicate ourselves to the fundamental mission of Times journalism." The letter was a pledge to readers to examine how the paper — and other outlets — failed to predict Trump's election victory. It also thanked readers for their continued to support.
Trump ran with that, deeming it an apology letter.
8. Trump denied knowing Steve Bannon for as long as he did.
"I like Steve, but you have to remember he was not involved in my campaign until very late. I had already beaten all the senators and all the governors, and I didn't know Steve," Trump told The New York Post in April 2017. The pair reportedly met in 2011 and hit it off, according to David Bossie, a conservative activist that worked with Bannon, as reported by The New York Times.
However, according to the Times, Trump announced his campaign team in August 2016 saying, "I have known Steve and Kellyanne both for many years."
9. Another misstatement is when Trump said nobody cared about his tax returns, while a majority of voters did.
Trump claimed early in his presidency that only reporters cared about his tax returns. However, an April 2017 poll found 53 percent of voters said Trump should be forced to release his tax returns, and 51 percent said the taxes were of importance to them. That's a lot more than just reporters.
10. And finally, Trump claimed his tax overhaul would not benefit the wealthy, but the working class.
Caught on video, Trump spoke with reporters about his tax plan in September 2017, where he said "I don't benefit. There's very little benefit for people of wealth." However, many experts have concluded that the new tax plan would do the very opposite and benefit the wealthiest Americans. Also, his inability to provide his tax returns make it impossible to know if he would benefit or not.
Trump has obviously told way more than 10 false statements to the public, but these were definitely some of the worst ones. Good luck to the Trump administration as they go about policing libel laws and making America truthful again.