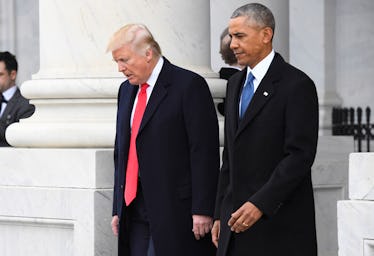 Donald Trump Has Been Lying About Barack Obama's Christmas Cheer
Pool/Getty Images News/Getty Images
During the Christmas weekend, President Donald Trump boasted on Twitter about having "led the charge" against what he says is an assault on the words "Merry Christmas." The tweet continued one of Trump's most consistent talking points; that, as president, he has brought saying "Merry Christmas" back into fashion. The claim implicitly begs the question: Did former President Barack Obama say "Merry Christmas"?
The answer is as obvious as Trump's claim about bringing back "Merry Christmas" is exaggerated. Yes, Barack Obama used the greeting Merry Christmas. No, there is no shortage of instances of him doing so. And, if there was any doubt, the former president even shared a Christmas message for 2017.
That message isn't exactly unique, of course. President Obama has been wishing Americans a merry Christmas for years. A simple Twitter search shows all the different times he's done so on social media. A simple Google search would bring up all the times he's done so in speeches. A simple YouTube search would result in montages of him wishing people a Merry Christmas in different televised speeches as well. In other words, any simple fact check proves that the idea Trump has renewed a trend of saying Merry Christmas is fantasy.
Trump nevertheless did indeed tweet as though it were OK to say merry Christmas because he is in the White House. On Christmas Eve, the president tweeted, "People are proud to be saying Merry Christmas again. I am proud to have led the charge against the assault of our cherished and beautiful phrase. MERRY CHRISTMAS!!!!"
For the sake of context, it is fair to point out that Trump's claim that he is leading the charge against a war on Christmas — which he has maintained since the days he was campaigning for the presidency — does feature a criticism of American culture overall. For instance, during a speech delivered in Missouri in late November, the president talked about bringing back "Merry Christmas" while saying that department stores are the ones who omit the greeting.
"Remember, I was the one when I was here the last time, I said, 'We're going to have Christmas again,''' Trump told a Missouri crowd. "I was the one that said, you go to the department stores and you see 'Happy New Year' and you see red and you see snow and you see all these things. You don't see 'Merry Christmas' anymore. With Trump as your president, we are going to be celebrating 'Merry Christmas' again."
Still, the president has outright talked at times as if his predecessor didn't say Merry Christmas.
In December 2016, Trump told a crowd in Wisconsin, "So when I started 18 months ago, I told my first crowd in Wisconsin that we are going to come back here someday and we are going to say Merry Christmas again. Merry Christmas. So, merry Christmas everyone. Happy New Year, but merry Christmas. And I am here today for one main reason: to say thank you to the people of Wisconsin."
That type of rhetoric of course conflicts with the fact that, again, the sight of former President Obama saying "Merry Christmas" as president wasn't exactly a rarity.
Of course, it's pretty obvious why saying "Happy Holidays" is popular, too. There just happens to be multiple holidays that occur on calendar around the time that Christmas does.
That is a simple fact that appears to be understood by President Trump himself, whose own tweets show he has no problem using the alternate holiday greeting.
So, in case you were wondering; No, Trump hasn't brought back saying "Merry Christmas." And now that you're done wondering, you can enjoy the rest of the holiday season.