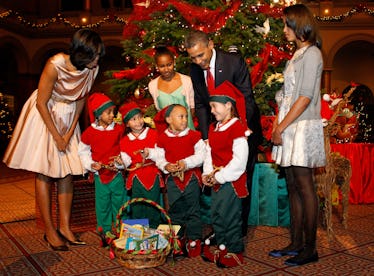 Barack Obama's Family Christmas Message Is Bringing All The Festive Feels
Pool/Getty Images News/Getty Images
On Monday, Dec. 25, former President Barack Obama sent a Christmas tweet to celebrate the Christian holiday. Since everyone knows Obama's a big family dude, it was only natural that his Christmas tweet would include the rest of his family. You need to see the picture that Obama included in his Christmas tweet — it's just way too sweet, and it's making lots of folks have a ton of nostalgic feels around the holiday... and around the no drama Obama presidency.
"On behalf of the Obama family, Merry Christmas! We wish you joy and peace this holiday season," Obama wrote in his tweet, which sent out on Monday morning.
Along with the cheery tweet, Obama included a photo of his immediate family. In the picture, Barack, in a red tie, stands next to his wife Michelle, in a white dress. Flanking the pair are their daughters, Sasha (on the right in a black/grey dress) and Malia (on the left in a white outfit). The family is all smiles posing in front of a hilarious looking group of small children in elf costumes. It really is a truly adorable photo of the whole crew. They're surrounded, by the way, by a whole bunch of Christmas decorations, including a giant tree and a Scooby Doo doll wearing antlers.
Now, this picture was not taken in 2017, to be clear. I recognized this photo as one from Christmases past and did a little internet sleuthing to figure out exactly when and what it's from. This photo is actually from back when the Obamas were still in the White House (sob). To be even more specific about that, the picture was taken in 2013 at the National Building Museum in Washington D.C. The Obamas were there for the 32nd annual "Christmas in Washington" charity concert, which benefitted the Children's National Health System and featured performances from the Backstreet Boys, Janelle Monae, and Sheryl Crow, according to MSNBC.
The children dressed up as elves were actually patients at the Children's National Medical Center, per MSNBC, and they gave presents to the Obamas. They then posed for pictures with the family, at which point Michelle Obama told the photographers to make funny faces to keep the children focused. In turn, some of the children made funny faces back at the photographers, which had Barack and Michelle cracking up, as you can see in the picture the former president tweeted on Monday.
Apparently, the picture is a favorite of former President Obama. But he wasn't the only one having some nostalgia for those eight years in the White House. His photographer, Pete Souza, also shared an old Christmas photo. On Sunday, Souza posted a photo of Barack and Michelle kissing under the mistletoe at the White House from 2014.
All this Obama Christmas nostalgia made the internet feel, like, way too much this Christmas Day. Many people tweeted at Obama to have a merry Christmas himself, adding how much they missed him as president.
Obama's plain tweet wishing "Merry Christmas" to his Twitter followers stands in stark contrast to what his successor has been implying about him. Throughout the fall season, President Donald Trump has insisted that he is somehow bringing back the phrase "Merry Christmas" and making it OK to say the phrase again, as he puts it. This stands contrary to, well, facts. In fact, both as president and, as seen on Monday, a citizen, Obama has not shied away from using the phrase. He and his family celebrate the holiday and are happy to spread the cheer. Given all the made-up drama the current president is spreading, it's no wonder people are missing the Obamas so much this holiday season.