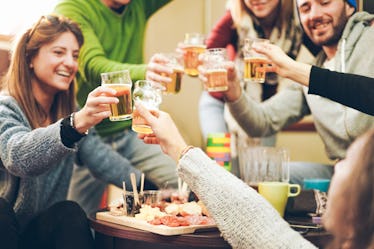 10 Drinking Games With Movies To Play With Your Friends When You're Snowed In
Getting snowed in isn't so bad if you have your crew of favorite humans who are 21 and up, a supply of beverages, and access to movies. You have to make the best out of being stuck wherever you are. Drinking games with movies are so entertaining because everyone is on high alert and scouting for the items that mean take a sip. You'll likely never watch the movie the same afterwards.
Now, while movies can be seen by people of various ages, when drinking games are involved, it's only for people who are of the legal age to drink, of course. Many of these movies are ones that we didn't even notice had repetitive themes or actions until it meant we had to take a drink from our glass. The drink totally doesn't have to be a shot, either. Everyone can have a cup of their fave that they keep for the duration of the game. Every time that certain thing happens in the movie, everyone can simply take a drink out of their glass.
Obviously, you want everyone to be able to play more than one round. You can make or adjust the rules as you go because there's no specific playbook for this. Those snowed in days will now be a hell of a good time if you play any of these drinking games with movies.