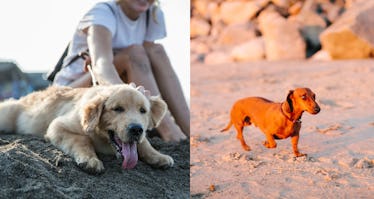 10 Dogs At The Beach Who Understand How Stoked We Are For Summer
I don't know about you, but I'm personally exhausted of the lingering cold weather. Hello summer, where you at?! We're looking for some sunshine and chill days spent on the sand. It's the perfect time to take a trip to the shore, and the best bud to bring along for a beach day is your dog. Our four-legged friends cannot get enough of the waves and running around on the sand playing Frisbee. I know I say it a lot, and I'm screaming, "Same" over here when I see pictures of how happy dogs at the beach are. They are truly so many of our spirit animals, and we are here for them.
They say dogs are man's best friend, but it's totally true because they really get us. I've never felt more in my element when looking at these photos of pups. It's like the fur babies are reading our minds, and totally understand how stoked we are for summer to be here already. While you're still having to wear your over-sized sweaters, you'll instantly feel warm and cozy looking at these 10 pups and how happy they are to be at the beach. I'm fur real getting over my winter blues now that I've seen these adorable doggies. Belinda Carlisle was right when she sang, "heaven is a place on Earth" — when you have summer, dogs, and the beach, of course.