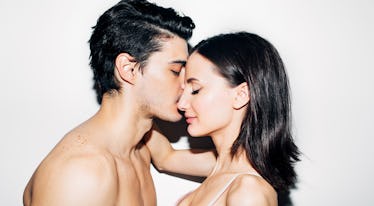 10 Dirty Texts To Send Your Bae That Will Keep The Honeymoon Phase Going Strong
When we think about the honeymoon phase, we automatically think about all the sex —which, of course, is part of it, but that's not the only thing that makes it special. There's also the excitement you feel whenever you talk or see each other. It's the anticipation when you're apart, and it's the excitement of knowing that the other person is having all those same feelings in return. While it's natural for every relationship to have some ebbs and flows, there are texts to send to keep the honeymoon phase going even longer, or revive it when the romance starts getting a little dusty.
A way to think about sending dirty texts to your SO that will help make sure that spark stays lit is by sending messages that invoke both the desire and cheekiness of that early passion, but also the more complex feelings of excitement and anticipation. One of the things that dissolves over time in relationships is the feeling of surprise and discovery, and while the comfort and security that replace it are wonderful, you don't actually have to give up those early feelings if you're willing to put in a little work, like sending cheeky texts. Here are some ideas to get you started.