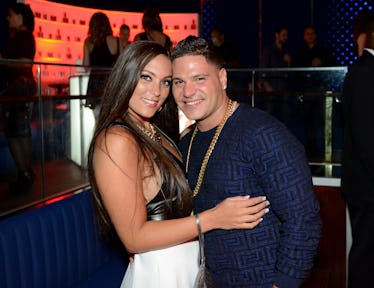 10 Of The Cutest Sammi & Ron Moments From 'Jersey Shore' That'll Make You Miss Them
Chris Roque/Getty Images Entertainment/Getty Images
Watching the explosive relationship between Ronnie Magro and his baby mama, Jen Harley, play out during Season 2 of Jersey Shore Family Vacation has got me feeling all kinds of nostalgic for Ronnie's other explosive relationship — you know, the one he had with former on-again, off-again girlfriend Sammi "Sweetheart" Giancola. Those two had quite the toxic ride during their six seasons together during the original show. There was the time Ron pushed Sam on the boardwalk, the time Sam punched Ron in the face, and the time Ronnie decided to throw out Sammi's mattress because, you know, it seemed like a good idea in the heat of the moment. But in between all those intense episodes was some pretty good stuff, too. Here are 10 cute Sammi and Ron moments from Jersey Shore that will def make you miss them.
1. When They Have Their First Kiss
Even though it took place in a bar after plenty of Ron-Ron juice had been consumed, there was something actually kind of sweet about the way Sammi set her sights on Ronnie in Season 1, Episode 2 after a brief flirtation with the Situation. She asked him to dance, which led to their very first makeout sesh. "Ronnie is hot. Ronnie is just f*cking hot," Sammi later said in a confessional. "One thing led to another and we were both feeling it."
2. When They Go On Their First Date
Sammi and Ronnie go on their first date in Episode 3, where they play miniature golf and ride go-karts while Ronnie sports a jaunty chapeau. He also holds Sammi's hand, pays for everything, and asks Sam what color golf ball she prefers. She chooses pink because duh. The whole thing is actually super cute. "Me and Sammi are pretty much together at this point," Ron says. "It's pretty nice. I'm enjoying it, I really am."
3. When They Make Their First Trip To The Smush Room
Later in the same episode, the pair hits up the house's Smush Room, where they snuggle and kiss in bed together for the first time. "You're not like most girls I meet," Ronnie tells Sam as he strokes her hair. Aw.
4. When Sammi Meets Ronnie's Parents
Sammi meets Ronnie's parents when they visit the house in Episode 5. Even though Sammi takes FOREVER to get ready when the fam first arrives, Ronnie's mom later falls in love with her after they all hit up the boardwalk and play amusement park games. Bonus points for Ron winning Sam a stuffed dog.
5. When They Have "The Talk"
Ron and Sam talk about how much they mean to each other and decide to see if their relationship can survive past the show. "Do you see something, like, in the future, like?" Sammi asks. "Yeah, definitely," Ron answers. "To us," he later adds, raising his glass of champagne. "Past the Jersey Shore." I swear the whole thing was actually romantic.
6. When They Fall in Love All Over Again
After breaking up during the first season reunion show, Sammi and Ron admit that they are falling back in love with each other after a night out at the clubs during Season 2. "We killed tonight," Ron tells Sammi giving her a fist bump. "See what we're capable of? I had so much fun with you tonight."
7. When They Team Up On Angelina
When Angelina splits the house for the second time during Season 2, Episode 11, Ronnie and Sam team up to put her in her place after she calls them fake. Did I feel bad for Ang? A little. But it was def nice to see these two fighting on the same side for once.
8. When They Take It To The Rooftop
During Season 4, Ron and Sam decide to get back together (after calling it quits in Season 3) during a gorgeous sunset date on a rooftop in Florence, Italy. "Obviously, I love you, Sam," Ronnie confesses. "I miss that feeling of holding you and being with you.
9. When Ronnie Buys Sam Flowers
The two are already broken up by Season 4 Episode 5, but instead of bringing home a girl after a night out at the clubs, Ronnie decided to man up and buy Sammi flowers. "The old Ronnie would have brought a girl back just to get a rise out of Sammi," he explains. "Sammi always expects the worst from me. Instead of bringing home a girl to get her mad and start another fight, let me be an adult."
10. When They Decide To Move In Together
The roomies throw a beach bonfire for their family and friends to celebrate the end of Season 6 in 2012, and Ronnie and Sammi tell their parents they're moving in together. "My journey with Ron has been crazy," Sammi explains. "But we have this amazing connection that nobody just understands."
The episode (and series) ends with Sam and Ron leaving Seaside Heights in a car together, but by 2014, the couple had called it quits for good after Ron got caught cheating.
Of course, things don't seem to be going so well between Ron and his baby mama at the moment, and Ronnie did recently cop to still being in love with Sammi during last season of Jersey Shore Family Vacation. So is there even a tiny chance for a Sam/Ron reunion some time in the not-too-distant future?
Don't hate me, but I totally ship it.